Ten Benefits of Choosing Wire Balustrade Systems for your Stairs
by Francesca Holmes on Oct 30, 2013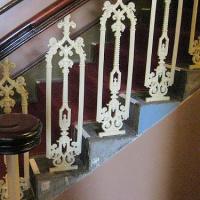 If you're looking to install a new balustrade system in the home, you have a variety of options to select from. Whether it's timber, stainless steel or glass balustrades you eventually opt for, it's very important that you consider one of the more recent additions to this group, the wire balustrade. 
Though not perfect for every property, when installed in the right location, wire designs can look absolutely fantastic and really bring out the best in a staircase. 
If you aren't already convinced, here's ten important advantages afforded by such systems. 
1. Elegant
It's difficult to deny that wire balustrade systems have an elegance to them that is often missing from other designs. Their sleek and strong lines give the balustrades a fantastic aesthetic quality that many homeowners absolutely love. 
If you're looking to add that extra touch of elegance to your home or staircase, there really are fewer ways to do it than with a brilliant wire balustrade design.
2. Versatile
Wire balustrade systems also benefit from being incredibly versatile, meaning they can be used in a variety of contexts and on many different staircases. They look great in most types of home, whether old, new or minimalist and are malleable enough to be used on virtually any type of staircase. 
If you have an unusual staircase design and are worried about whether a wire system could be used in your home, it's recommended that you contact specialists in the industry for their professional opinion.
3. Ventilation
Whereas all other types of balustrade affect the air flow through a building, wire balustrades don't inhibit ventilation in any way. By minimising the amount of space the materials take up, designers have been able to engineer a safe balustrade system that doesn't impact the way air circulates around a construction. 
This is particularly important if your staircase occupies a central point in the home or may obstruct air flow in other ways.
4. Low maintenance
Unlike other balustrade systems, wire designs require virtually no maintenance at all. While a glass balustrade is able to offer the same unobstructed views as a wire system, they do require regular cleaning and polishing.
5. No obstruction of view
In the same way that wire balustrades don't obstruct air flow, they also allow for unobstructed views of all surroundings. This makes them ideal for modern houses, many of which favour a design that places the staircase in a central and prominent position. 
6. Works well with other materials
Thanks to its versatility, a wire balustrade system works incredibly well in combination with a variety of other materials. This is particularly true of timber and stainless steel, both of which compliment the wire system brilliantly. 
7. Easy implementation
Fortunately, wire balustrade systems are fairly easy to implement, requiring minimal disruption to any home they are integrated into and taking comparably little time to complete the job. This makes them an ideal addition to any home that is always on the move or homeowners that can't have their daily routines interrupted a great deal. 
8. Safety
Wire balustrades provide homeowners with the safety they require just as efficiently as any other form of balustrade. Incredibly strong and hardwearing, the system is designed to protect those using the stairs, as well as to frame the staircase in an aesthetically pleasing way. 
It is worth remembering that building regulations are in place to control stairway designs with British Standards existing since 1944 so you'll need to make sure your chosen design fits in with these requirements. According to a RIDDOR analysis of data from 1996/97 and 2000/01, stairs were the most common factor involved in accidents of below 2 metres height with as many as 500 low falls involving stairs in 2001/02 although this figure has decreased since.
For more information on this and stair safety, read the HSE Falls on Stairways – Literature Review. 
9. Minimalist and simple
One of the best things about a wire balustrade system is how simple they are. Despite being so minimalist and sleek, they still look fantastic and work exceptionally well as a means of framing a staircase without detracting from the rest of the house or becoming a focal point themselves. 
If you're looking for a balustrade that doesn't draw the eye but still looks brilliant in the home, there is no better choice than a wire system.
10. Modern style
Finally, a wire balustrade system can also act as a modernising force in the home, lending any building an air of the contemporary and even contributing something a little bit different to older builds. 
In fact, some of the best uses of wire balustrades are in older homes, where such a sleek and modern design ends up working incredibly well in contrast with more traditional design features. 
If you want to move your home into the 21st Century, a wire balustrade system is a great way to do it.
By Francesca Holmes
Francesca Holmes is a writer and editor for Stainless Handrail Systems. When not on a mission to bring high-end architecture to the masses, she enjoys exploring the great outdoors.