The Basics of Cooktops
by Guest Post on Mar 29, 2011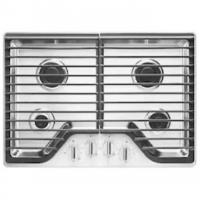 Cooktops are probably one of the most used appliances in the kitchen. Since we spend the majority of our time at home in the kitchen preparing, cooking, and eating our food, it is extremely important to choose appliances that suit both our lifestyle and our design style. With a wide variety of cooktops available, choosing the right one can be tricky.  Here are the basics you need to know about cooktops.

You can choose from electric, gas, or induction cooktops. Each has its own features and advantages.

Electric cooktops are an excellent choice for the everyday chef. You can choose from coil, radiant or solid disk cooktops; all of which distribute heat efficiently. Radiant heat cooktops are the most popular type because they are placed underneath a smooth surface and are usually mounted flush with the countertop. Flush mount cooktops look more stylish, blending seamlessly with the countertop. Cooktops with solid disk elements also have a smooth surface, although they are less common.

Both radiant heat and solid disk cooktops boast easy cleanup. Look for models with a slightly raised lip to contain spills.

Electric cooktops are available with several different burner configurations. Smaller cooktops offer a standard four-burner option, while higher-end models come equipped with as many as six burners, including dual-size elements and bridge elements.

Other features commonly found on electric cooktops include hot surface indicator lights, control locks, electronic touch controls, and warming elements.  

Induction cooktops use electromagnetic energy which transfers the heat directly to specialty cookware. Induction cooktops have similar burner configurations as their electric counterparts. Induction cooktops are safer, however, because there are no hot elements or open flames.  In fact, you can put your hand directly on induction cooktops and they won't even feel warm. This not only makes for a safer, cooler kitchen, but also makes these cooktops the easiest to clean. It rarely takes more than a wet, soapy rag to clean off induction cooktops.

Many of the same features found on electric cooktops such as child safety locks, electronic touch controls, and bridge elements can also be found on induction cooktops.

Gas cooktops are popular among professional chefs and cooking enthusiasts alike because gas cooktops offer more heat control than electric or induction cooktops. From low simmering to rapid boiling, the end result is more even cooking. Standard gas cooktops have a power range of about 9,000 BTU. If you plan to do a lot of gourmet cooking, high heat sautéing, etc. you may want to invest in cooktops with a higher BTU output. Virtually all gas cooktops now have pilotless ignitions which make turning them on easy and energy efficient.

The number of burners on gas cooktops ranges in number anywhere from one to eight. Most gas cooktops sport continuous grates over the burner, allowing for smooth cookware movement and eliminating spills. Important cleanup features to look for on gas cooktops include sealed burners to prevent messes from getting below the surface, dishwasher-safe grates, and upswept sides similar to those on electric cooktops or induction cooktops.

There are many makes and models of cooktops available on the market today. Now that you know the basics of cooktops, you should be easily able to find one to fit your needs.