Area Rug Shopping Guide
by Steffen Ploeger on Dec 15, 2016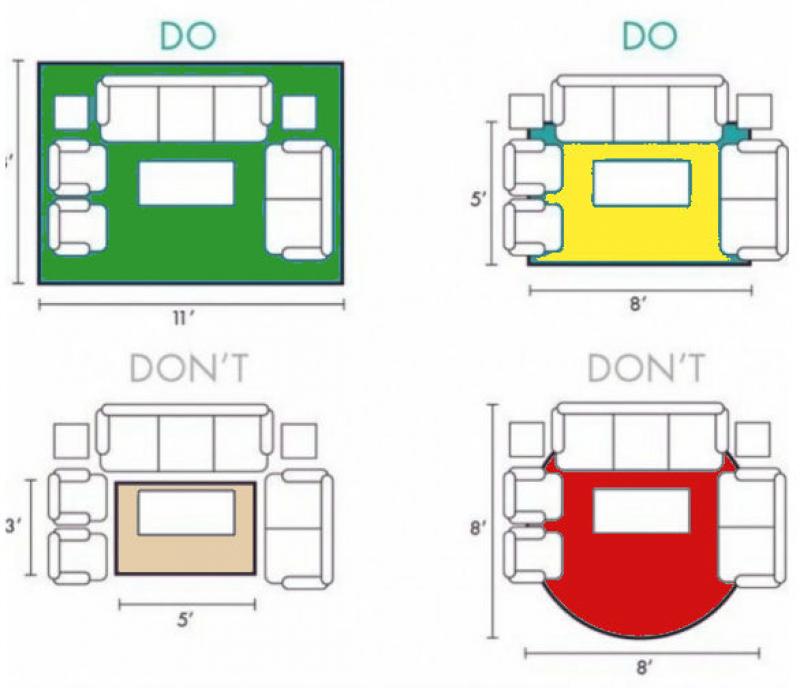 Area rugs: An interior design afterthought or a crucial piece of décor? While the debate between the two camps could hardly be described as contentious, it certainly exists. To many, an area rug is something to be purchased only after all other design elements are in place. But the case can be made that given the positioning of an area rug, it serves as an excellent visual opportunity to not only tie a room together but to also add a WOW factor for your guests.
With this in mind, we felt that it'd be a good idea to put together a quick shopping guide containing tips on what to look for in an area rug, where they can be placed, and most importantly, how to keep your carpet looking its best.
A great area rug does more than add a splash of color or a complementary texture; it also protects hardwood floors, acts as a noise dampener, and grounds furniture.
1. Like Goldilocks, the Size Has to be Just Right
Unlike other accessories, determining the right size of an area rug is determined by a number of different factors including the size of the room, what the space will be used for, and what other pieces will be used to decorate.
In the living room, common area rug sizes include 5x8, 8x10, and 9x12. To frame the room,  the rug can be placed beneath the coffee table, at the center of the room. If you haven't thought about how you'll be placing your furniture, you run the chance of purchasing a rug that's too small – a move that can ultimately limit your furniture placement options.
If you've yet to decide how you'll be setting up your living area, err on the side of caution and purchase a larger rug. Doing so provides more options on how to set up your room. Of course, the best option would be to know your vision for the space beforehand, eliminating the risk of purchasing the wrong size.  
When it comes to the dining room, the accepted rule of thumb is to buy a rug that's larger than the table. To avoid the chairs sitting on an uneven surface (half on the rug / half off), you should take into account the space needed when the chairs are pulled out for a guest – in short, the chair should always be on the rug.
2. Consider the Weave of the Rug
A rug's weave is another important consideration that you should take into account because the longevity of the rug is directly correlated to the way it's been made. If you're truly looking for a piece that will stand the test of time, go with a hand-knotted weave. While more costly, a hand-knotted rug's fibres are tied together by hand using a loom. They're also impressive to look at and may last long enough for subsequent family members to inherit. Tufted rugs on the other hand are made by cutting off the tops of loops of yarn. This creates a flat, yet plush surface. While budget-friendly, they definitely won't last the way a hand-knotted rug; tufted rugs are likely to shed over time. Additional weave styles include:
Hooked

Flat-woven

Machine-made
3. More Materials, Durability and Affordability
The material of your rug can determine how resistant it is to stains, it's durability, how soft it is, and of course, how much you'll pay for it. Of all the materials, wool is arguably the most widely used. Not only is it affordable, it's also tough and naturally resistant to stains. But wool is hardly the only option available; you'll also find rugs made of these different materials, each with their own qualities:
Cotton – low maintenance, easy to clean, but less durable than the more robust materials

Silk – luxurious (ideal for the bedroom), highly delicate, more expensive

Natural fibers – eco-friendly (made from renewable sources), prone to staining

Synthetic materials – easy to clean and maintain, affordable, multi-functional, good for indoors and outdoors
5. Consider Where You Buy Your Rug
Traditionally, you might find yourself buying your rug at a brick and mortar retail store. These days however, you've got options thanks to the many different online furniture stores that are just a click away.  Purchasing your area rug online will not only give you access to many more different style and design options, you'll also find that many online products are priced much more economically than you'll find at a retail location.
6. Keep Your Rug Looking Its Best
Want to keep your rug looking its best for as long as possible? Here are a few tips to keep it looking good year after year:
Regular rotations – rotating your rug prevents uneven wear and tear due to foot traffic. Rotating 180 degrees just once a year may even double the lifespan of your rug.

Follow the care instructions on the label – Before you get to cleaning your rug, make sure that you follow the care instructions for that particular material. Some rugs can't be machine washed, and will need to be dry cleaned.

Don't vacuum aggressively – rather than using the vacuum itself to clean the rug, use the attachments to clean it; it'll do the job albeit in a much gentler fashion.