3 Wall Decor Options for a Nursery
by Jessica Ackerman on Nov 29, 2010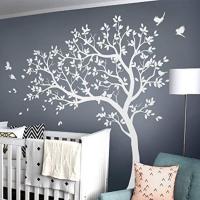 Preparing for the arrival of a new baby is one of the most exciting times in an expectant parent's life. When it comes to decorating the nursery, there are so many different designs and patterns out there that it can be overwhelming trying to pick what is best for your nursery. Wall decor is one of the aspects of nursery decorating that often gets overlooked because it is seen as an add-on or something that is not nearly as important as other areas of decorating. Thankfully, there are three easy wall decor options for nurseries that will work with just about any theme.
1. Vinyl Decals
If you have never seen vinyl decals, this product may be a blessing for your nursery decor. They are clinging wall decor products that adhere to just about any wall surface. The benefit to them is that they can be easily removed and relocated. For many of the more popular and generic nursery themes, such as cars and trucks or flowers, there are mass-produced vinyl decals that you can purchase at just about any large home decor or discount store. If you want something a bit more unique, get your child's name cut in vinyl and hang it on the walls. You can order vinyl wall graphics from online retailers, as well as, from local graphic shops in your area. Most places that advertise that they do vehicle graphics will be happy to cut custom vinyl pieces for you for a reasonable charge.
2. Wall Murals
For those soon-to-be parents who have an artistic flair, painting a mural may be the perfect option. Any scene or design can be added to the walls and flat ceilings of the nursery. Paint clouds and sun on the ceiling or a princess' castle on the bedroom walls. There is no limit to the number of options available for murals; if you can imagine it, it can be painted. If you are not blessed with even a modicum of painting ability, consider hiring a professional wall muralist to come to paint the nursery for you. While you may lament the fact that you are not able to paint it yourself, your tired back and aching feet will be very thankful that you outsourced the job.
3. Framed Prints & Pictures
Hanging up framed prints and pictures on the walls of the nursery may seem like an easy way out of wall decor, but it is a great way to personalize the space. Begin by painting the walls a solid color that matches the rest of the room's theme. Then, using the color of the trim as inspiration, find frames that match. If the trim is white, use white frames for the beautiful black and white images of your child after he is born or of mom while she is pregnant. You can also frame colorful pictures of family members and hang them up for the baby to see. If prints are more your style, select nursery appropriate pictures to grace the walls. 
Nursery wall decor is as important as the choice of bedding and accessories. With a little clever thinking and the willingness to try something new, your baby's nursery can have a personality as unique as a baby's.