Types of Butterfly Valves
by Guest Post on Nov 16, 2011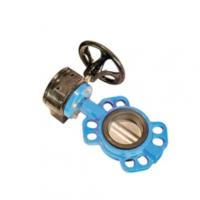 Butterfly valves got their name from the appearance of a single rod surrounded by two semi-circular discs loosely resembling the body of a butterfly.
Older cars that used carburetors instead of an electronic fuel injection system were probably the most commonly known types. Often confused with the choke, the purpose of the butterfly valve in the carburetor was to cut off air to the cylinders when the car was cold so that the car could be started with a rich mixture of gasoline and air. As the car would warm-up, a temperature sensor would cause the valve to open up more to let more air into the engine. This is a great example of an actuated butterfly valve where an actuator outside the valve changes the position of the valve based upon an outside condition, in this case, the engine temperature.
The greatest advantage of these valves is that they are inexpensive compared to other types of valves. They are good for low-pressure types of applications where a perfect seal is not required like on municipal wastewater lines. Since the rod and discs are actually in the fluid flow, a pressure drop is always present as the fluid passes through the valve. Since these valves are so simple, they are also the easiest to maintain of all valve types. But there are downsides too. 
Since they do not seal well, this type of valve is not good for corrosive materials. Also, since they cause a pressure drop, they may require some kind of bypass valve to pressure balance the system before the valve can be opened in a large installation.
Ball valves in comparison are larger and use a sphere or ball inside the valve with a hole in it that can completely seal when closed and let the fluid pass through the valve with no pressure drop as long as the valve hole is at least as large as the input pipe diameter. Used for high-pressure applications involving corrosive substances and gases, the ball type of valve is more expensive but has the added advantage of never failing to open due to high supply pressure. It is often used for pipes less than six inches in diameter that carries high-pressure gases or liquids which require a reliable cutoff seal.
The spring return butterfly valve is a more complex type that is more energy-efficient but also more problematic. The springs are used to open and close the valve. Since the springs store energy, this makes them more energy-efficient to operate. Special films that reduce friction can also be applied that will increase energy efficiency even further in some applications.
There are a wide variety of spring return valves that allow a lot of customization in application and design. However, a spring-loaded valve can have problems where high-speed valve operation may be required such as inside a car engine. When spring goes bad at high speeds it can cause engines to open and close valves at the wrong times or hang open causing a backfire causing potentially severe damage to the engine. For this reason, the springs used must be carefully matched to original specifications when replaced.
From simple manually operated 90-degree turn type valves to electronically actuated automatic spring return type valves, there are many different styles of butterfly valves. Their main advantages are that they are cheap, simple and reliable. But they do not make good choices for applications requiring high-pressure, corrosive fluids or a tight seal.