What Your Front Door Colour Says About You
by Guest on Aug 3, 2017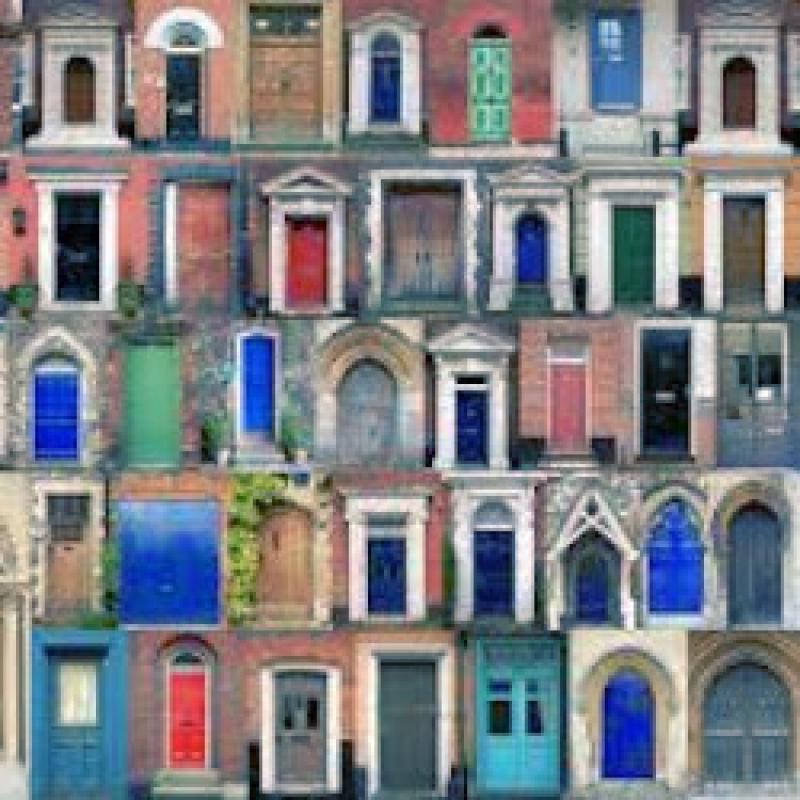 Your front door is a place to greet visitors, welcome friends and invite outsiders in. A cheerful colour can illuminate your front porch and turn a drab setting into a charming spot. Choosing the right colour for your front door can be tough, there's just too many to choose from, but it is one of the most important decision to make when renovating a home. 
Architect, property expert and television host of Amazing Spaces, George Clarke said: 
Your front door is the face of your home – it's the first thing people see, so don't follow the crowd, design your own and really go to town". 
"With your front door you have more freedom to express yourself perhaps picking a colour that you wouldn't normally choose for your interior walls. Changing the front door is a quick win but a real game changer in terms of how people perceive you and your home".
Credible phycologists have linked specific colours and hues with specific emotions and personalities – they are feelings and they evoke and what they say about you. That means your front door is saying something, too! Find out if your front door is giving emulating your personality, it might be time to grab the paint and brush. 
Black  
A black front door tells the world that you are quite serious in your outlook on life. As soon as you cross that black threshold you are entering a space of order and control, full of elegance with everything in its proper place. 
 
It is a popular choice of colour that shouts sophistication and wealth, it is a great choice that works well on lots of different types of homes. 
White 
White is traditionally associated with purity and calm. Just like the clean lines it creates, white doors begin a guest's journey into a simple and organised home décor. 
 
A crisp white door is for those who are (or would like to be) organised, neat and clean. Giving the impression that you and your home appreciate serenity. 
Red  
Throughout history, this colour has always been referred as a signing of welcoming others in "Hello", "Look at me", "Yes, do come in". Red is a bold choice for those who are not afraid of standing out on the street, grabbing the attention of those passing by. You enjoy the attention and try to live life to the fullest, it goes hand-in-hand with entertaining. 
 
Fun fact, did you know that if you lived in Scotland, painting your front door red signified that you had paid off your mortgage? 
Orange 
It might seem outlandish to some, but orange is a surprisingly popular choice for a front door colour. It is the perfect combination of clean lines with a jolt of colour, symbolising wisdom warmth and a warm invitation into a safe space, whilst giving a bold impression that you are also a social butterfly who likes to leave a lasting impression and you enjoy a good challenge. Yellow 
For those who don't mind standing out, a bright yellow door will bring energy, positivity and joy to your front door. It is a happy colour that screams "Welcome!" and that you're not afraid of standing out. 
 
This colour is not for the faint-hearted but it tells passers-by that you are definitely an optimist who doesn't like things to be grey (although, interestingly, yellow and grey do work well together). 
Green 
An inspiring colour like green is a popular choice for front doors. The colour suggests that those residing in it care about their home and their community. 
 
The colour suggests that traditional values lie within and that its residents are ambitious who strive for personal betterment. It colour is also closely associate with money, finances and growth. 
Blue 
Like all colours, blue comes in a variety of shades and hues, all giving a different meaning.
A mid to dark blue signifies serenity, stability and calmness, telling visitors that your home is a place of refuge. Many Georgian properties have rich blue doors which are paired well with white painted houses or grey stoned properties. 
 
A light blue is a more unusual shade for a front door, but is a popular choice on many homes by the coast. It tells people that you like things to be fresh, bright and that you are very much an outside person who likes to bring the outside in. 
Grey 
Although it is not traditionally associated with front doors, grey has become ever more popular, particularly on the front of modern homes.  
 
Dark or pale, it tells people that you are sophisticated, reserved, and like to keep an eye on current trends. A house with a smart grey front door is a very stylish choice and your guests can be expected to be entertained when they step inside. 
 
Four features to enhance your front door 
1. Clean lines 
Don't overdo it – keep the front of your home simple and symmetrical. Split the plants out equally on either side of your entrance, whilst any outdoor lighting usually looks better in pairs. 
2. Flower Power 
You can enhance the entrance of your home with stylish hanging baskets, planters and window boxes etc. Using flowers and shrubs often complements the colour and style of your front doors also. 
3. Keep it clutter-free 
Keep your doors, pathways, steps and open porches clean. Similarly, if you have a doormat – keep that free from dirt, leaves and other pieces of debris.
4. The details make a difference 
Letterboxes, doorknobs, knockers and other door accessories are a good investment. Stick to high quality and door furniture that blends the style and age of your property.