All You Need to Know About Linear Fluorescent Lamps
by Boris Dzhingarov on Mar 15, 2018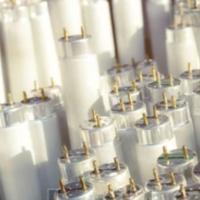 Linear lamps offer a good lighting system in many places. Linear fluorescent lamps, also called linear bulbs are gas-discharge lamps. These lamps offer high energy efficiency since they convert most of the input power supplied to visible light, unlike incandescent lamps. The linear lamps are therefore more energy-saving and reliable. The lamps come in different types and sizes. They have become quite popular because they are relatively affordable and have a long lifespan. People have become quite fond of these lamps because of their unique appearances and designs.
The origin of linear lamps
The linear lamps came into use in the 1770s. The first prototype of a linear fluorescent lamp was first developed and tested by a group of scientists in the early 1930s. After several subsequent testing and designing, the first fluorescent tube became available for use by the public in the late 1930s. Around 1950, these lamps went on to become really famous and greatly preferred in the United States over incandescent lamps.
How do they work?
Linear lamps require the use of an inelastic scattering process that involves the use of cathodes to excite mercury vapor that must be present in the glass to produce the required electricity. This, however, does not generate the visible glow required to make it a linear lamp. This is why phosphors and noble gases like argon are also added to the gas envelope. Mercury atoms produce ultraviolet light (UV) that makes the phosphors in the lamp glow or fluoresce.
Why use linear lamps?
Linear lamps have been manufactured with an anti-corrosion coating surface that helps to increase the lifespan of the lamp.
They also have an IP65 Design which is suitable for many outdoor applications.
They have a high resistance to shock and vibration with an IK10 specification feature which makes them suitable to be used in areas like gas stations.
Linear lamps offer low heat since they emit about a fifth less heat as compared to incandescent lamps.
 As mentioned earlier, the linear lamps provide high energy efficiency and therefore provide great services to their users.
These lamps designs have high durability and can last for up to 10-20 times longer as compared to incandescent lamps.
Shortcomings of linear lamps
Linear lamps get damaged due to frequency switching activity.
When the lamp's bulb breaks, it emits mercury vapor which contaminates the environment and can cause health issues. It contains a magnetic ballast flicker that can cause problems to people who are sensitive to light.
The light emitted from the linear fluorescent lamps has the same effects as some percentage fraction of the light coming from the sun and as such the light can damage artwork.
The efficiency of the lamps decreases at extreme temperatures that are very high and very cold temperatures.
Where are linear lamps used?
Linear lamps have various application areas for example; they are used for indoor lighting in kitchens, sitting rooms, and conferences among other rooms. In addition to that, they are also used for outdoor lighting for aesthetic beauty and security purposes. Linear lamps can also be used for agricultural purposes such as providing lighting in greenhouses, for livestock and poultry. Linear lamps are also used in show business in stage lights and to provide spotlights. This is because linear lamps use high-frequency ballasts that prevent video flickering and provide high color output.
Verdict
Despite having disadvantages, linear lamps have proved to be very useful and efficient in everyday activities in the world today. They have enabled people to live more comfortably and securely even during nighttime.