Cancel Allergy Season with These Common Sense Landscaping Tips
by Wesley Holbert on Apr 7, 2018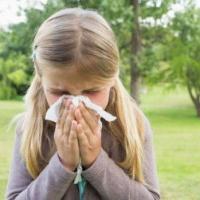 The spring allergy season is right around the corner. It may not seem like it with all this winter weather we're having. And if you're anything like me, when the grass is green and the lilies are sprouting...you're sneezing!
Before you get your tissues ready, consider how your yardwork habits contribute to your allergies. What can you do to cut down pollen at the source?
Research Your Local Lawn Care Services
If mowing the lawn gives you a runny nose and itchy, watery eyes, you may be one of the millions of Americans who suffer from grass allergies.
The best way to avoid triggering your allergies is to avoid the pollen entirely. In other words, get someone else to man that mower. You can hop online and see what services and price packages are offered in your area with a quick search.
Maybe paying a landscaping company to groom your favorite shrubs isn't in the budget right now, though. Maybe you just like getting your hands in the dirt. If that's the case…
Mow Early, Mow Often, Mow Smart
You might think the solution to your grass pollen allergy is to leave the mower gathering dust in the garage. But actually, it's the opposite.
When grass gets tall enough, it starts to produce pollen. One way to keep the money you spend on tissues to a minimum this allergy season is to be proactive. Mow your lawn often, so that the grass doesn't have a chance to spring up and fill the air with pollen.
And if you're mowing the lawn yourself, take care to mow on days with a low pollen count and no wind. Wear a surgical mask (dollar store!) to cover your mouth and nose, and wear long sleeves and pants to prevent skin irritation and itching. Take a shower and wash your clothes when you finish, to wash off any remaining pollen and to keep from spreading it in your house.
Alternative Mulching
It's not all about mowing the lawn, though. Many landscaping enthusiasts use mulches that can encourage the growth of mold – another common allergy trigger.
Research alternatives to wood chip mulching methods, such as covering your ground with oyster shells or gravel mulch. These types of mulch don't trap moisture the same way wood chips do.
Female Trees Are Friendlier to Your Allergies
The kinds of trees you keep in your yard can also affect your allergy response. Yes, you should consider what kinds of trees in your area release the most pollen. But did you know that whether your trees are male or female can affect pollen production?
Turns out, male trees produce much more pollen than female trees. If it's in your budget, you might consider calling someone out to change the sex of your tree. It involves transplanting a branch from a female tree to a male tree, and then waiting for a transformation. By this time next year, your male tree will be female, and your pollen woes will be decreased.