Aerating Your Lawn
by Guest Post on Aug 3, 2010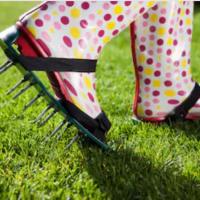 Lawn aeration is beneficial when the soil has been compacted. Soils get compacted for a number of reasons: sports, car or other vehicle traffic, and parking or wet, poorly drained soil. Think about a football field. All that activity compacts the soil which kills the grass. Aeration is a common practice on sports fields to keep the grass healthy. When the soil gets compacted there is little pore space in the soil to hold air. Grassroots need air to grow and space to absorb water and nutrients.

Lawn aeration removes small soil plugs from the lawn. A manual aerator is a cylinder with a handle that extracts a soil plug approximately ½ to 1 inch wide and 5' to 6" deep. The plug is pushed out of the top of the cylinder the next time you use it and deposited on the lawn. These holes are made 2 to 6 inches apart depending on the degree of compaction. It is better to use an aerator that pulls the plugs out of the soil. Some aerators simply push solid spikes into the soil to aerate and are not as effective as the cylinders.

Aeration is needed when the grassroots are less than 2 inches deep. To check and see if aeration is needed to remove a small piece of the lawn to determine the depth of the grassroots.

It is best to aerate in the fall. During the dry summer months, lawns are already stressed and aeration may damage the lawn. Soil should be moist when aerating so it is best to water the lawn the day before aerating if it isn't moist from rain. Try and aerate in two different directions to make sure you get air to all the roots. The soil plugs can be left on the lawn. If the soil in the plugs is compacted you can break them up and they will work back into the soil faster.

Your soil will benefit from aeration in many ways. The soil microorganisms will be able to work faster at decomposing thatch. The soil will receive more water, oxygen, and nutrients moving into and through it. Roots will grow stronger. Water will filter through the lawn better. If your lawn needs fertilizer or seeding you can do both of these things right after you aerate.

If you have a large lawn you can rent an aerator at rental equipment stores or you can hire a lawn service to do it for you. Make sure the machine that is used has hollow tines so that the soil plugs are brought to the surface.