Planning for Spring
by Dan Eskelson on May 2, 2012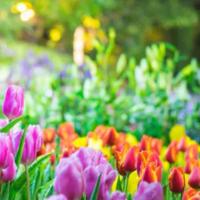 Somewhere in these short daylight hours, hiding perhaps behind the coming storm is a seed destined to become the fruit of a new garden season. This is the time of year we should all take stock of the previous season's growth, measuring the results with our expectations for plants and projects. We should develop garden plans for the new growing season, well in advance, for when it comes, the explosive growth of spring will not wait for deliberation.  Even those of you in the south have a brief rest from normal gardening chores...time to reflect on past mistakes and plan for future success.
And what better way to brighten the cold dark days of winter than to plan for new garden beds, an addition to the vegetable garden, or a completely new landscape? There is time now to research broad themes and basic concepts, and then funnel these into detailed plans and specific lists.  The resources are seemingly limitless - garden and landscape books are plentiful at most libraries, free to borrow and learn from. Online resources are growing daily...you could spend months (perhaps years) just studying the information available on the web. To experiment with the layout for a new garden area, one of the easiest ways to draw up your ideas is with graph paper...let each small square equal one foot, or ten feet, depending on the size of your project.
For very large projects you can tape the pages together.  You could also use the "high-tech" method and use one of the consumer-grade design programs. Many of these, though seemingly economical, are very frustrating to learn and use, and could dampen your enthusiasm for the project.  Be aware that the landscape "stock plans", which have become common in the mass media and online, may not meet your needs in terms of matching the plant material to your soil, climate, and personal preferences.
There is no substitute for your research and creativity.  Of course, you could also contract your design work out to a professional firm. But if you would like to create your designs - and you *should* if you have the time and energy - learn as much as you can and spend plenty of time revising your ideas. Listed below are a few resources to get you started.  If the weather is not *too* severe in your region, some outdoor chores will help to cheer you up:
Sharpen and oil hand tools - shovels, hoes, pruning shears - and perform maintenance on power tools. Inspect all for safety.
Prune dormant shrubs and trees. You can bring in cuttings of forsythia, quince, jasmine, and many other flowering plants to provide early blooms indoors...just keep them in a flower vase, with water.
When temperatures start to stay above forty degrees, apply a dormant oil spray to your deciduous trees and shrubs. This is the most important insect control measure you can take - and horticultural oil is non-toxic.
If your soil is not frozen or too wet, work up your garden areas, leaving the soil rough to expose insects to the weather and hungry birds.
Spread wood ashes from your fireplace or woodstove over areas that support alkaline tolerant plants, like Iris. 
The following resources will provide many hours of learning and inspiration...after getting started with your winter garden planning, you'll be surprised at how soon spring arrives!