The Right Soil and Site Preparation are the Key Ingredients to Success
by Guest on Aug 3, 2010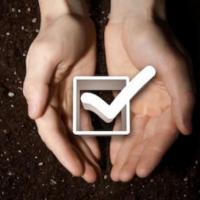 The best way to ensure you have a beautiful lawn is to prepare your soil and perform the proper site preparation before the lawn is seeded. If these two things are done properly lots of maintenance and money will be saved over the life of the lawn which can be decades.
For grass to grow properly it needs four things: air, water, sunlight, and nutrients. The air water and nutrients all come from the soil. If there isn't enough of any of these four things the grass will suffer. Proper preparation of the soil for these key ingredients will likely produce a beautiful lawn.
The best soil for a lawn is rarely found on any building site. Loams, sandy loams, and loamy sands with a pH of 6.0 to 7.0 are the best soils for a lawn. Normally the soil needs to be improved by adding lime to acidic soils with a PH of 6 and below and sulfur or gypsum to alkaline soils with a pH of 7.5 and above. Test the soil PH with a soil test to determine what pH adjustments are needed.
The first step in preparing the site is removing all rocks, stumps, and anything else larger than 3 inches. The site needs to be rough graded to eliminate any drainage issues, to slope the grade away from the foundation, fill in any holes and make it as level as possible. The second step is to till the site at least a couple of inches down to get rid of any existing weeds and to make it easier for new topsoil to mix properly with the existing soil. The third step is to apply the topsoil with a total depth of 4 to 6 inches after it is firmed. At this stage, it's good to add some fully decomposed organic matter into the soil.
Step 4 is where you perform the soil test and then apply what is needed to the soil. You then apply fertilizer high in phosphate to the soil and work it in so it is distributed throughout the soil. After this, the final grading can be performed to even out any high or low spots and slopes. The final step is to use a lawn roller which is partly filled with water to firm up the surface which can reveal any low or trouble spots which can then be corrected. It's best to let the site settle further by adding more water before seeding the lawn.