How to Stain Furniture
by Guest Post on Jan 13, 2010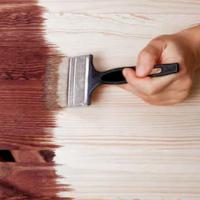 Staining an unfinished piece of furniture or refinishing an older piece is a great way to have a quality piece at a fraction of the cost. The process is fairly simple and depending on if you have to remove an old finish or not isn't that difficult to do.
Below are some steps you can take, to stain furniture and achieve a professional looking finish when you are through.
If it's an old piece you are doing you will have to strip off the existing finish first. Remove any hardware on the furniture before starting. Use a quality paint stripper and follow the labeled direction for cleanup. Lightly sand the piece when finished. If there are any loose joints repair them now before proceeding to the next step.
If there are any cracks that you feel need to be filled, use a wood filler that is close to the color of the stain you will be using. If possible just ignore them completely since this can add to the character of an older piece.
Try and position the piece so that the part you're working on is horizontal to minimize and running of the stain. If this is not possible, then start at the bottom and work your way from there. Apply the stain quickly and evenly to coat the part you're working on. If a lighter finish is desired wipe off the excess immediately or if a darker finish is what you prefer to allow it to soak in for 15 or 20 minutes before wiping. The time will be determined by the shade you are looking for. Continue this process until the entire piece is done and allow it to dry thoroughly.
Once dry, lightly sand with fine steel wool and apply a compatible sealer over the finish. This will help keep the stain from bleeding through and discoloring your finish coat.
When the furniture stain is completely dry you can apply protective varnish to the finish. This time, work from the top down. Polyurethane is a popular choice but doesn't produce a high-quality finish. If it's a piece that will take a heavy beating it may be a good choice, but for a professional finish consider Lacquer. It can be sprayed (ideal) or brushed on if done properly.
Tips: Work in a well-ventilated area to protect yourself from any fumes. Oil-based stains provide the best finishes.