Handicapped Bath Tubs
by Guest Post on May 7, 2012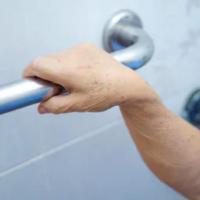 Leading a normal life becomes quite difficult for a person suffering from mobility problems. Disabled and handicapped people have to depend on others for doing activities of daily life including things such as bathing. If someone in your family is handicapped or is suffering from accessibility problems, you should go around a handicap bathtub for making life easier for the person concerned.
Round handicapped bathtubs are one of the most useful innovations of the modern age. These bathtubs offer a series of features that make it easier for such people to bath conveniently and comfortably without having to look to others for help with such activities of private nature.
The best thing about round handicap tubs is that they are completely safe and secure for the disabled as well as the elderly. They offer an excellent bathing experience that is comfortable along with being completely safe. A side door provided on these bathtubs makes entry and exit easy for people who find it difficult to climb into regular bathtubs. This feature gives handicapped bathtubs an extra edge over regular bathtubs. In addition to unique safety features, this type of tub also has whirlpool jets to provide the user with hydrotherapy for complete muscle and joint relaxation. All these features of round handicap tubs make them ideal for disabled and elderly people.
A round handicap tub not only makes bathing safer, but it also eases the pain and discomfort brought on by the progression of age in elderly people. The relaxing and rejuvenating spa facility provided by these tubs make it possible for elderly and disabled people to enjoy a thoroughly refreshing experience without having to leave the comfort of their home. Two different types of jets are available in these tubs to choose from. The first type of jet uses water and the second one uses only air. In an air bath, the air is used by the jets for producing millions of air bubbles that kiss your body and swirl around it giving you an unforgettable experience.
Circular handicapped tubs also offer another great feature in the shape of a shower. This feature is just right for those who love to take showers. Other important features of these tubs include ergonomic and contoured seats, grab bars, and side doors. A wide range of round handicapped tubs is available in the market to choose from. You can select the one that suits your budget, available space, and other requirements. Choosing a round handicapped tub will definitely help you in bringing a positive change in the life of your disabled or elderly parents.