Annual Pond Cleanouts
by Dan Eskelson on Apr 28, 2012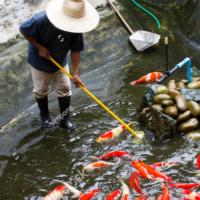 Much of the following advice will pertain to *all* ponds but is based on my experience with the natural ecosystem of our aquascape Designs water garden.
The annual cleanout is the only "major" pond maintenance chore required by our natural water garden environment. Considering the many hours of enjoyment our pond and waterfall provide throughout the year, these four or five hours of easy-paced work are well worth my time and effort.
The cleanout should be performed before the water temperature gets above 55 deg. F - the temperature at which the beneficial bacteria begin to colonize. You don't want to disrupt the natural balance.
Using a sump pump or the pond pump surrounded by a protective screen (to restrict the fish), pump out much of the water - use as long a pipe as possible and direct the water to lawns, shrubs, or other areas that would benefit from a nutrient-rich bath.
Before the pond, the level has lowered to six inches or so, fill two or three "holding tanks" (I used dishwashing tubs) with the existing pond water and carefully net your fish into them. The fish are weak after a long winter, so the less stress they endure, the better - they *may* try to jump out of the holding tanks, so cover with a piece of plywood or another object. Limit the time in the holding tank to just a few hours.
after removing almost all of the water, spray down the rocks with a garden hose and spray nozzle - it's not necessary, nor advisable, to remove *all* the algae - leaving some will be beneficial to the ecosystem. Start washing from the top down, and run the pump to remove the dirty water. Washing the rock should take only a half-hour or so.
Remove the filter media and lava rock from the skimmer and bio falls, and hose it thoroughly...again about a half hour's work. Clean out the skimmer box and any remaining debris at the bottom of the pond.
Though much is made of the dreaded "pond scum", with the natural ecosystem of the aquascape ponds, there is very little of this to deal with. I remove about a pint after the final rinsing.
Now hook up your pump, reinstall the filter media and start filling your pond. If you have city tap water, you will need to add dechlorinator according to directions...fish will not survive in chlorinated water.
Finally, float your holding tanks and fish in the new pond water for 30 minutes to acclimate them to the temperature change. Then free your fish into the pond.
That's it - not a bad job at all. This is a very minor price to pay for what we consider to be the best improvement we've ever made to our outdoor environment.