Discover What You Catch in Restrooms and How to Stay Safe
by Nick Marr on Dec 15, 2021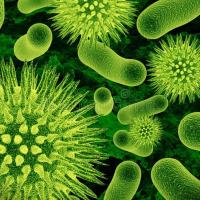 Thanks to the global pandemic that is continuing to disrupt everyday life, the world is currently obsessed with the need for hygiene. Now, more than ever, people want to know where bacteria can be found and how to stay safe.
One place that concerns many people is the restroom. After all, hundreds of people can use the same space in a day. The space is often tainted with body fluids and the warm atmosphere makes it a perfect breeding ground for many types of bacteria.
Any time you touch a surface in the restroom you are at risk of picking up bacteria. This is why so many businesses are focused on preventing you from having to touch anything. For example, the best sanitary bins are operated by your feet or a sensor, avoiding the need to touch them.
To help you appreciate this, take a look at the diseases available in your average restroom:
This bacteria commonly causes strep throat which gives a sore throat, tender and swollen lymph glands, fever, a rash, and problems breathing and swallowing.
E.coli is well known as being one of the major causes of food poisoning. It causes a seriously upset stomach and will likely lead to fever and vomiting. In most cases, the effects are gone after ten days but in some cases, it continues and can become life-threatening.
Hepatitis A initially will give you symptoms similar to the flu. However, it damages your liver and will lead to jaundice, nausea, a loss of appetite, and abdominal pain.
The shigella bacteria gets into your intestine and causes an infection. This results in fever and diarrhea. You will need to seek medical help as some types of this disease are life-threatening.
A variety of sexually transmitted diseases can actually be transferred between people in restrooms. The majority of the diseases you'll encounter are simply unpleasant but you will need medical assistance.
Where You Find Bacteria In Restrooms
Surprisingly, studies show that the sink is the worst place in a restroom. This is followed by the towel dispensers, faucet handles, and door handles. Impressively, sensor-operated hand dryers and soaps have nearly no bacteria on them.
Staying Safe
It doesn't matter how many surfaces you touch or what bacteria you pick up, providing the bacteria don't have access to an open wound or specific orifices, such as your eyes and mouth. In short, if the bacteria are only on your hands then you shouldn't have an issue.
Why? Because, before you leave the bathroom you should be washing your hands properly. That means putting a little soap on your hands and working up a lather all over your hands. You can then rinse this is warm to hot water.
The key to making sure this eradicates any bacteria you've picked up is to use restrooms that have sensor technology. That means sensors to turn on the water, dispense soap, and even operate the hand dryer. This allows you to clean your hands, destroy and bacteria, and leave the restroom safely. You just have to figure out how to open the door….