Xeriscaping - Water Wise Landscaping
by Dan Eskelson on Apr 30, 2012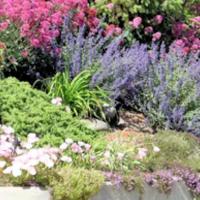 Gardeners and landscapers, there are used to dealing with low levels of moisture like Santa Fe, New Mexico, but are now under additional pressure with long-term drought. After visiting my daughter's maintenance accounts (another gardener in the family!), observing local landscapes, and visiting Plants of the Southwest Nursery, I've become very impressed with the concepts of water-wise landscaping, or xeriscaping. The principles of xeriscaping are obviously important for very hot and arid areas...but for true environmental harmony, xeriscaping is important for all areas. Even in regions that receive sufficient rainfall, using available resources wisely and efficiently will produce the most appealing, efficient, and low-maintenance landscapes. Here's a brief checklist of xeriscaping strategies:
Use native plants when possible; natives and plants related to natives will use amounts of water naturally available in your area...they will also be less susceptible to attack from insects and disease.
Plan the landscape wisely, identifying areas of sun and shade, soil type, wind direction and intensity, topography, etc.- also consider the time available for maintenance. Increase irrigation efficiency by attempting to group plantings according to water use; high use plants can provide the "oasis" closest to the home, medium use plants further out, and low water use plants at the outside edge of the planted area.
Instead of using lawns to cover large areas of ground, plant only enough to provide for the needs of the family (volleyball, croquet, etc.). Kentucky Bluegrass uses approximately forty inches of precipitation per year to stay green! Most areas of the country can grow alternative, water-efficient turfs like Buffalograss and Blue Grama.
Provide efficient irrigation; lawn areas will need sprinkler irrigation, but trees, shrubs, and flower beds can use a drip system, which will save considerable water and supply moisture exactly where it's needed - at the soil level.
Use mulch to minimize evaporation, cool the soil, limit weed growth, and slow erosion. Mulches can be organic (bark chips, pecan shells, compost, etc.) or inorganic (rock, gravel). Use a permeable landscape fabric (not plastic) under the mulch to further reduce weed growth and to keep soil from mixing with the mulch.
Maintain your landscape properly. Even low-maintenance landscapes require timely maintenance inputs. Mow, prune, fertilize, weed, and control pests as needed. Keep irrigation systems properly adjusted.
The above guidelines are general recommendations and should be adjusted to your specific site. To learn more about xeriscaping and gardening with natives (especially in the southwest), visit Plants of the Southwest, and order their catalog - it's excellent!