Pros and Cons of a Home Move
by Guest on Apr 20, 2018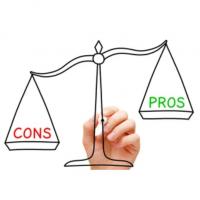 Moving to a new place is a big decision that involves taking into consideration the many pros and cons of relocating. The move will come at a cost, but then again it also presents new opportunities and a new beginning. And when all is weighed, most of the factors give more reason for moving instead of working against it; but it's all a matter of personal perception. Whichever the case, below are some advantages and disadvantages of moving and some crucial questions to ask yourself before the move.
The Pros And Cons
The decision to relocate is mostly arrived at based on some pluses and minuses that are taken into consideration, and they are:
•      The Pros
New opportunities:  
Moving presents new opportunities and is a chance for experiencing a new adventure. You will meet new people, and make new friends and acquaintances as you explore the new city, town, or village. In short, it presents endless possibilities, especially for the person who is open to enjoying life's bounties. Plenty of new experiences and opportunities are all around, from new festivals to visit, new nightlife to enjoy, and restaurants to try.
The chance to grow:            
Change is never easy, but more often than not, it is in those challenging times in the transition that we grow. Moving to present a chance for change and therein an avenue for growth both professionally and personally.
Change of scenery:              
Consider this, relocation to a new place means that you have a new city to play in and live in as you take in the sights and sounds. In essence, the move offers you a clean slate, a fresh start in life at a new place. As such, you have the chance to start over and do away with much of what you disliked in your former hometown. It might have been the cold weather, the architecture, the culture, or even just the house in general. With the move, you can start over.
•      The Cons
Many of the issues that account for the downside of moving to a new home are inevitable and therefore cannot be overlooked; these are:
The packing:             
Packing is never fun for many people, for them, it is a tough and tedious process. However, they can make the entire process easy by coming up with a moving checklist that covers what they need to pack, when, and how. Start early and tackle much of what needs to be done making it less stressful as the days get closer to the scheduled day of the move. Moving companies can help with this and really make life easier.
The costs:                 
Let no one try to convince you that you can relocate to a new place and not have to spend a significant sum. Moving costs money, that's a fact. From prepping the new home to making the necessary arrangement for the old house, and even the transit, it all requires money. What matters the most is how well you plan for the move so that your budget for everything. Such plans will see you put into consideration the need to hire affordable movers.
The drive:                  
After all the packing, lifting, and loading of the moving truck, driving it is not something most people will want. most of these vehicles are gas-guzzlers, uncomfortable, and at times unreliable; not forgetting the stressful process of booking one. Why go through all that trouble when you can opt to hire professional movers so that all you have to worry about is packing and preparing the new place? You will not have to worry about fuel or driving the truck.
Moving house can be stressful; nevertheless, you can overcome these stresses with the following moving tips.
Let the entire family take part in packing and getting ready for the move.
 Call your relatives and friend to give you an extra hand in packing or even loading the truck.
Inform your colleagues, relatives, and friends about the planned move and do your best to stay in touch with them after relocating to avoid missing them too much. Moving to a place where you do not know anyone can make you feel lonely.
Also, try and see if there is anyone you know in the new town that you can catch up with; they can also help you get acquainted with the place. The idea is to try as much as possible not to feel lonely.
Essential Questions About Moving That You Should Ask
The question will cover the merits and demerits of moving; thus they play an essential role in planning for the move. The questions will include:
1. What is the cost of living like in the new city?
The living costs in most places around the country have reasonably affordable. Even so, it is necessary to compare the costs of the new town with your current location before the move.
2. How is the education system?
If you are still schooling or you are moving with the kids, then you should take this factor into account as you plan for the move. Compare different schools and settle for at least two with good ratings.
3. Can you enjoy the things I love there?
For instance, moving to Florida and your biggest hobby is snowboarding may see you to develop a hatred for the place. In short, try to find out what activities in that city can you enjoy and which of your hobbies will you still do after moving.
4. What are the career opportunities?
Find out how the job market is in the new town if you are moving with the hopes of landing a new job. You should have an idea of what the salary will be like and other issues related to having a prosperous career after you relocate.
Now Make a List
Now that you know the pros and cons of relocating, it will not be hard to make a list of the thing you need to do as you prepare for the move. Put some thought into it and feel free to add any other thing that you think is essential. As you do this, make plans to hire professional movers to help ease the process. You may have to allocate some money for such professional services, but consider the overall benefits of such help given the fact that you still have to unpack and organize your things as you settle in the new home.