3 Reasons Why a Limestone Fireplace is Right for You
by Guest Post on Jan 19, 2010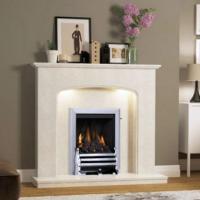 Let's go straight to brass tacks on the 3 reasons why a limestone fireplace is right for you.
The Unique Qualities of Limestone Fireplaces
Limestone as a material for fireplaces is popular and prominent because of its soft and durable qualities which make it an ideal choice for making a fireplace. However, the rather soft and relatively porous nature of limestone makes care for your limestone fireplace very important. Experts say you must prevent stains and grubby marks from spoiling the surface of your limestone fireplace especially if it's new!
Design of Your Limestone Fireplace
The versatility of the limestone material makes it possible for you to alter the dimensions of your fireplace to meet your custom specifications. This means you are at liberty to ensure your limestone fireplace blends and does not clash with your interior design plans. It is often said that reputable companies who make limestone fireplaces usually have an expert in stone. A master mason makes the fireplaces individually and signs it off which certainly gives the limestone fireplace style and class. Another advantage in the design of a limestone fireplace is that it is easy to fit any chimney with or without any mantel and works with any type of fire.
Limestone Fireplaces Never Go Out of Style
Limestone fireplaces are a great addition to the ambiance of a room and are available in a variety of styles, colors, and sizes that suit your taste. It might be subject to argument but it is the consensus that limestone fireplaces never go out of style!
The argument is that stone and art have featured side by side for many years and a new dawn has been heralded in which stone is now being used in new and creative ways. One thing is sure, if you are looking for a stunning focal point in your home, limestone fireplace design offers you unrivaled fine detailing.
In Conclusion
You have reached your decision to purchase a limestone fireplace and are looking forward to the delivery and installation of the new addition to your home. There is just one more thing I will leave behind, experts' overwhelming advice that your limestone fire should be chemically sealed with a good quality sealant. This is because limestone is reactive to acid solutions.
We want to make sure you get on to a good start in enjoying your choice of a limestone fireplace and I hope this helps.