How to Fit All the Essentials to Your New Door
by Guest Post on Nov 1, 2011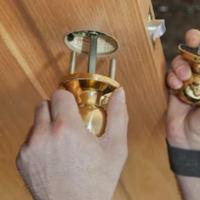 If you've fitted some new hardwood doors around your home, the next step will be attaching all of the accessories you need to them.
You'll already have fitted hinges to the door frame, but you also need to have a handle or knob in place and a latch, so the door opens and closes how it's meant to. First of all, you have to fit the latch, then you'll need to remove it with the scored marks in place, before fitting a door handle or knob. To fit a latch, you need to measure and mark the middle point on the centre of the side of the door with a pencil and square. The centre of the latch should be on this line and you should hold it in place, drawing around it then using the square to put the dimensions on the edge of the door.
Measure how deep the latch is, then mark this on the door and drill a hole to the right depth. Use a narrow chisel to get rid of the debris from inside then hold the latch in the right place then drill a hole to mark where the handle should go. Next, score around the edge of the latch plate with a craft knife – don't use a chisel, as you may split the wood by accident.
Put the latch in place and then fit the spindle from the door handle, making sure it's able to turn easily. Adjust the hole if you need to then screw the latch into place. You'll have to fix the handle plates to each side of the door afterwards, screwing them into place, then close the door so the latch is against the door frame and mark its position with a pencil. After this, you can hold the striker plate in place and use a narrow chisel to cut out a gap for the latch then screw the plate into position and you're done!