5 Ways to Spice Up Your Kitchen
by Guest Post on Jul 6, 2015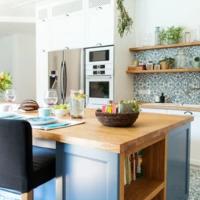 Updating your kitchen cabinets doesn't have to mean ripping the old ones out and buying a completely new set. Instead, try giving your kitchen a new look by painting or staining your cabinets. A relatively easy DIY project, repainted cabinets can accent the interior design of the rest of your home, make your kitchen feel fresh and new, and create a warm and bright space you'll actually want to spend time in. Once you've chosen colors and a style, seal the deal by updating the hardware to match.
Opt for Open Shelving
As appealing as your cabinets may be, they're not doing anything to show off the finer pieces of china in your collection. Instead of repainting the cabinet doors, replace them with glass front panels, or add additional shelving on par with upper cabinets for a cleaner, classier display. Lower shelves can hold wicker baskets for easy table accessory and linen storage.
Give Your Backsplash a Splash of Color
One of the most overlooked areas of the kitchen is the backsplash, which makes it a great space for creativity and color. Adding a fresh coat of paint in a bright color can draw the eye and add an unexpected spice to the design of your kitchen; patterned wallpaper can do the same, either noticeably or subtly, depending on the design. Not ready to commit? Check out the growing options in removable wallpaper until you find a pattern you fall in love with.
Showcase Your Specialty
Are you the party bartender of all your friends' requests? Do you bake cakes like no one else? Use the design of your kitchen to highlight your passion. Set up a separate bartending area and stock it with high-quality accouterments to accent your skill, or use color to show off your prized baking appliances and finished goods. Master chef of the household? Hang your most-used pots and pans from the ceiling for visibility (and easy access!).
Get Inspired with an Island
While this isn't a solution for every kitchen, if you have space, along with the time and finances, a classy yet functional kitchen island is a worthwhile investment. They add prep and storage space to your kitchen and easily add value to your home if designed well. Check out styles that include creating bar seating on one side or adding additional appliances, but be sure to research your options when it comes to appliance installation, particularly when dealing with electrical or water components (contact a designer or contractor if you're unsure). Better still, use the island to better organize your kitchen around your passion, being sure to coordinate the colors and style of the rest of your kitchen, along with the rest of your house. Any (or even all!) of these ideas can reinvigorate your kitchen and help make it a space you look forward to spending time in.