Home Interior Design
by Guest Post on Jul 30, 2010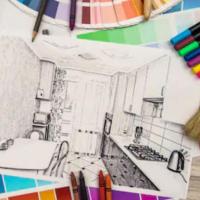 The interior of a home can often say as much about a person as the clothes they wear.
The passion for interior design is growing. Many households are taking more care about the pieces of furniture they buy, the look they want to achieve, and maybe experimenting with colors, textures, and design styles.
There may be many factors that have resulted in us spending more money and time on our home interiors. Firstly, the vast number of home decorating, makeover, and interior design television programs. Not everyone has an eye for design or is just naturally a passion for interior design. The home makeover shows have given inspiration to the masses.
The internet is another huge factor. Before being able to buy online, we could only gain inspiration and buy furnishings and accessories from local home stores or by stumbling across a mail order catalog. The choice, basically, was very limited unless you lived in a large city.
Now with online interiors and furnishings stores, blogs, and online magazines, not only can imagine and visualize the exact look we want, we can buy that look and have it delivered.
The ultra-modern look is very much of the moment, frankly stark in places, mainly white and very clinical. Although this look quite often suits apartment living, it isn't for everyone and does not always suit a period apartment or house. We are very much over the chintz look so what do we go for when we want to keep colors muted but want texture, individuality, and creativeness? One style that ticks all those boxes is the shabby chic look.
Shabby chic talks about its influence from the New England style along with the French. It is more often associated with the French style but increasingly interior designers, are seeing the ties with the very popular New England style as well. The shabby chic style is very creative, individual, and romantic. Many furniture designers now are taking the basic elements of a shabby chic home and combining it with a touch of glamour to create a modern, comfortable style.
Bland shabby chic is not, it is very much a statement in terms of interior design. It is a statement in quite a different way from many styles of furniture in that it is the shape and form of the pieces that give the statement as the colors and shades are mostly muted like greys, washed-out blues, pale pinks, and faded greens. It is due to this that it has become such a popular style. The statement without the brash colors is often found with strong design styles. It is the stylish marriage of things based on vintage designs and more modern pieces. 
Even though by its nature and of course name, shabby chic doesn't have smooth, perfect finishes. At the same time, the finishes, paints, and varnishes on shabby chic furniture are meant to be like that and have been created in that way purposefully. Mass manufactured it is not and more importantly, not worn, chipped, or broken through use as it is then that shabby chic loses its chic. 
One very good description of shabby chic colors is "chalky". These chalky greys and taupe's mixed with lots and lots of white. shabby chic furniture is always matt, always painted and combined with muted, linen covers are put together with accent pieces in silver. A touch of glamour and sparkle can then be added with crystal accessories such as chandeliers and decanters along with black and white family photos in silver frames and fresh cut flowers in an assortment of beautiful vases for example.