5 Things Every Modern Kitchen Needs
by Charltote Concrete on Jul 17, 2018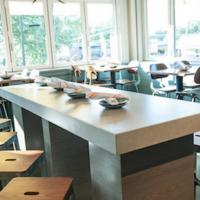 Nowadays, modern style is all the rage in architecture and interior design. Many homeowners attempt to achieve the perfect modern kitchen. But, what does a modern kitchen really entail? Continue reading to discover five things every modern kitchen needs!
1. Open Concept
One of the key elements of a modern kitchen is an open concept design. If you're unfamiliar with what an open concept kitchen is, it's basically a kitchen that doesn't have any barriers between the kitchen and the dining room, or any other surrounding area. 
Open concepts are great because they make the space more functional and allow more light to flood into a room, which are two key elements of a modern kitchen.
2. Steel Appliances
Modern style encompasses the idea of sleek and shiny elements. That's why steel appliances are preferred in a modern kitchen. From your sink to your stove, oven, microwave, and even fridge, all of the appliances should be steel. There's something so elegant and timeless about all steel appliances, such as a sink faucet with an exposed coil. In addition to being aesthetically pleasing, steel appliances are also extremely durable and easy to maintain. 
3. Concrete Countertops
While traditional kitchens utilize granite countertops, a modern kitchen should have concrete countertops. Concrete countertops are great for a variety of reasons. For example, you can choose almost any design, finish, or appeal with a concrete countertop. Also, they are extremely durable and even heat resistant, which means they are easy to maintain.
It should be noted that concrete countertops are usually hard to cast. That being said, if you want a concrete countertop, you should hire a professional instead of attempting to install it yourself.
4. Horizontal Accents
Contrary to other kitchen styles, modern kitchens focus on horizontal accents instead of vertical lines. For example, drawers are usually installed in short wide rows. As for cabinets, while a modern kitchen might have a few big vertical cabinets, it should have more wide cabinets stacked on top of each other. This creates the illusion that your kitchen is bigger and more open, which is a key element of a modern design.
5. Monochromatic Color Palette
Lastly, your modern kitchen should have a monochromatic color palette. This means that it should only focus on incorporating, black, white, greys, and possibly browns and nudes. This color palette is simple and sleek, which aligns with the simplicity and minimalistic aesthetic of a modern design.