Is Remodeling Your Kitchen Worth the Effort?
by Nathaniel Paul on Mar 1, 2022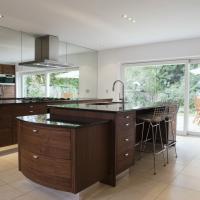 The kitchen is one of the more important areas in your home. It is usually attached to or includes the dining area. People come together to share meals and make them in this space. As such, you will want the best and most comfortable experiences while you make use of the kitchen. Working with a kitchen remodel contractor can be a bit daunting when you're not sure what to expect. If you're considering redoing your kitchen area, here are some things you may want to consider before getting started.
The Average Cost of Remodeling
Construction projects can be potentially expensive. Customized shelving, pantry setups, efficient appliances, new flooring, and even the best countertops can add up to some really high costs. Simple remodeling projects with small updates to cabinet fronts and appliances usually go for an average of $21,000. Going all out with a commercial-grade gourmet kitchen can go for around $126,000. This doesn't take into account the plumbing just yet.
Given these numbers, you can more or less figure out what kind of budget you'll need to start a remodeling project. This can help you assess and prioritize which steps you'll need to take. You can opt to build-up to the ideal kitchen over time and take things slowly after all. Do you need new appliances, or can the current ones be maintained or restored? Are your countertops still working out for you when you prep your food? Is the plumbing still working properly? Are the floors in good condition? All these can be taken on in phases if needed. 
Is It Worth the Effort?
The answer to this is highly dependent on you and your goals. Investing in remodeling for a greater kitchen experience can bring more value to you personally. However, it might not be smart to invest in a major remodeling project if you plan on selling your house in the near future. While you can potentially improve your home's value, you may not get as much back as you originally spent. This means someone else will be getting the most out of your renovations. 
However, if you plan on enjoying the fruits of your labor for yourself, then a remodel is definitely a great investment. Not only can you improve the quality of your appliances, plumbing, and even food preparation area, but you can also give the kitchen area's interior design an update, one that is more suitable to your taste. 
Designing and achieving your ideal kitchen setup is always beneficial in the long run and may even gain more value over time. Most kitchen remodel contractors will work with you to help balance style and function effectively while keeping up with your local building codes. This allows you to fully enjoy the many perks of having a new kitchen.
How to Get the Best Value out of Your Remodeling
When it comes to investing in shaping up to one of the most important areas in your home, you will want to get your savings where you can. Here are some tips you can try out when you start your remodeling project. These can help you get the most value out of your experience and investment.
Choosing materials
Choosing the right material for your countertops, shelving, and other kitchen amenities can greatly impact the home's value and how appealing it is to potential buyers. If you're remodeling for yourself, you will definitely need to balance function with style. Hardwood flooring is popular but wooden floors do come with their issues over time. Going with decorative concrete might not be as cosmetically appealing in comparison but it can be treated to prevent staining from food spills. 
Save on costs by repainting
Repainting a cabinet can be more cost-efficient than replacing it entirely. Having a new one put in can make up 30% to 40% of remodeling expenses. If there are no issues with function, location, and stability, a fresh coat of paint might be your best option. It can even be treated as a DIY project allowing you more customization options on top of savings.
Get good and efficient lighting
Effectively illuminating your food prep area as well as the rest of the room is often taken for granted. Good lighting fixtures add a touch of class and style to any room. It also highlights the many features and amenities within your kitchen.
Invest in a good faucet
After days of food prep, you will be cleaning up a lot. Your sink and your faucet will definitely be the most used part of your kitchen. You'll need these to be able to take a lot of wear and tear from use so go for convenience and quality. Splurge if you can since you'll be making the most of the investment anyway. A simple single basin sink that won't require you to stoop over when washing might be your best bet. 
Investing in a kitchen you will be using often will always be worth the time, effort, and expenses. Take the time to plan and work with a kitchen remodel contractor to achieve your dream kitchen. It will make the cooking experience a lot better for you and potential home buyers.