How To Create a Spa-Like Atmosphere in Your Bathroom
by Guest Post on Jun 30, 2022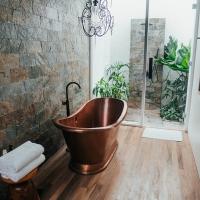 If you're looking for a way to add a little luxury to your life, why not start in your own bathroom? Creating a spa-like bathroom in your home can be a great way to relax and escape the stresses of everyday life. By incorporating some simple design elements and accessories, you can easily transform your bathroom into a tranquil oasis. With a few simple changes, you can turn your bathroom into a relaxing retreat.
If you want to remodel your bathroom to create a luxurious spa-like experience, you should consult with a contractor. Professional bathroom remodel experts can help guide you through your project. Depending on where you live, you can search for "bathroom remodel Lubbock," for example, to find professionals in your area. Bathroom remodel experts can offer solutions to help create the space of your dreams. Aside from consulting with professionals, there are a few other things to consider. Keep reading to learn how to create a spa-like atmosphere in your bathroom.
Use natural materials like bamboo or stone.
Bamboo and stone are two materials that can be used to create a spa-like atmosphere in your bathroom. Bamboo is a natural material that is sustainable and can be used to create a variety of textures. Stone is a natural material that can be used to create a variety of colors and textures. Stone is popular for shower and bathroom walls, while bamboo flooring can be used to tie them together. When used together, bamboo and stone can create a spa-like atmosphere in your bathroom.
Create a shower environment.
When creating a spa-like bathroom, it is important to think about the shower environment. The shower should be large with plenty of space to move around, and it should have a luxurious feel. You can achieve this by installing a large rain shower head with a sleek, modern design. Installing a rainfall shower head is one of the best ways to create a spa-like atmosphere in your bathroom. Not only does it provide an indulgent and relaxing experience, but it can also add value to your home. There are many different types of rainfall shower heads on the market, so be sure to do your research before you buy.
Your shower environment should also be well-lit, with plenty of natural light if possible. To create a spa-like atmosphere, you can use soft, neutral colors and add some decorative touches, such as plants or candles. You should also install a comfortable shower bench to relax on while you shower. Finally, make sure to include a good-quality shower curtain and bathmat to complete the look.
Add fresh flowers or plants.
Adding fresh flowers or plants is a great way to make your bathroom feel spa-like. Not only do they add natural beauty and fragrance, but they can also help improve air quality and come with several other health benefits. Choose flowers or plants that are low-maintenance and won't require a lot of care. Some good options include succulents, cacti, bamboo, spider plants, and peace lilies.
Consider heated flooring.
When it comes to creating a spa-like bathroom, adding a heated floor is a must. Not only does it keep your feet toasty warm on those cold winter mornings, but it also creates a sense of luxury and relaxation. There are a few different types of heated floors to choose from.
One option is to install electric heating mats, which are thin and easy to install. They can be placed under your tile, laminate, or hardwood flooring, and they're perfect for small bathrooms. Another option is to install a radiant heating system, which uses hot water or steam to heat the floor. This is a more expensive option, but it provides superior heating and can be used in any room of your home.
If you're looking for a more luxurious spa-like bathroom, you can also compliment your heated floors by adding a heated towel rack or even a heated toilet seat. These small additions can make a big difference in your bathroom's comfort and functionality.
So, if you're ready to create a spa-like bathroom in your home, be sure to add a heated floor. It's the perfect way to relax and unwind after a long day.
Having a spa-like bathroom can help you relax and de-stress after a long day. A spa-like atmosphere can be created by using relaxing colors, scents, and lighting, as well as by adding comfortable seating and accessories. With some time, consideration, and planning, you can craft the perfect bathroom for your exact needs.