Installing a Kitchen Backsplash
by Guest on Feb 3, 2011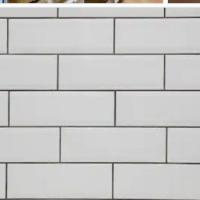 Before beginning to install a tile backsplash, it is advisable to read all manufacturer documentation for the tile, grout, and other supplies to be used. This will help ensure that you have sufficient quantities of supplies on hand to finish the project and confirm that the materials you are using are recommended for use with one another. Reading all instructions and recommendations will provide additional insight such as the appropriate trowel to use for your project and whether the tile and grout need to be sealed.
Many experienced tile installers prefer to use mastic as the base adhesive for a vertical backsplash, though your tile may call for a particular type of adhesive. Before adhesive is applied, the wall on which the backsplash will be installed should be lightly sanded and the dust removed to create a rougher surface for the adhesive. The container for the thin-set or mastic should designate the appropriate type of trowel to be used in its application.
The backsplash area should be measured, and the first tiles applied at what will be the center of the backsplash. Tiles should be applied to the wall in small sections at a time to prevent premature drying of the adhesive. Tiles should be secured to the adhesive using a twisting motion, with each being checked to ensure that it is level and evenly spaced from adjacent tiles. Inserting spacers is an easy way to achieve consistent spacing between tiles.
As you install tile after tile, you will encounter areas that require tiles to be cut, such as to fit around an electrical outlet. Cutting tiles as you reach such areas, rather than ahead of time, can help ensure the best fit.
Once the backsplash design is complete, the adhesive should be allowed to dry before grout is applied. Grout should be used in small batches so that it does not dry too quickly. Apply grout as described on the product package, wiping excess grout from the tile surface with a clean, moist sponge as you go.
As the grout dries, a film will likely form across the surface of the backsplash. This film can be removed with a soft cloth. To finalize your backsplash, seal the tile and grout if it is recommended for the materials you are using.
Maria Polidoro is the owner of Ace Tool Online, a leading provider of electric and cordless power tools headquartered in Wantagh, New York. Ace Tool stocks the latest power tools, parts, and accessories and houses a full-service center for major power tool brands.