No Need for a Plumber to Replace the Bathtub Drain
by Guest on Jan 19, 2010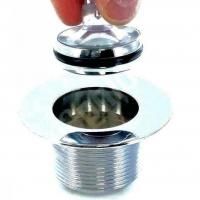 If your bathtub drain needs to be replaced, either because it has become damaged or simply because it's not holding the water in the tub adequately anymore, there isn't a need to call a plumber. Replacing this drain is well within the reach for most do-it-yourself homeowners. Replacing this drain yourself will save you a significant amount of money, especially taking into consideration the prices that plumbers usually charge.
Preparations for Replacing the Drain
Before you start to replace a bathtub drain, you'll want to put down something to protect the bottom of your bathtub. This is not only to keep it clean but to prevent potential chips or scratches if you drop any tools into the bathtub while you are working. You'll also want to assemble some hand tools, such as screwdrivers and a pair of pliers, and any other tools you might need, depending on the style of bathtub drain you are dealing with. You'll also want to have some rags or towels handy.
Types of Bathroom Drains and How to Remove Them
First, you'll need to determine what type of bathtub drain you currently have. A common type of bathtub drain is the trip lever-style stopper. These come in two different varieties: a plunger style and a pop-up style. If you have a plunger style, you can't see anything happening when you adjust the bathtub drain lever, because the plug itself resides down in the pipe. To deal with one of these, you will simply unscrew the face place, and pull the entire bathtub drain device out. If you find your tub is leaking because the stopper is bad, you can simply replace the stopper and reassemble.
If you have a pop-up style of a bathroom drain, first adjust the lever so that the stopper is at the highest level. Then, remove the stopper by either pulling it straight out or twisting and lifting.
There are also bathtub drains that don't include a lever. If you have a rollerball or foot lock style drain, turn it counterclockwise and pull it out. Some types of drains also require you to loosen a setscrew before you can remove them.
Pulling the Bathtub Strainer
Inside the drain itself, you will hopefully see crossbars. If your tub has crossbars in the flange, you can use a screwdriver and a pair of pliers to remove the drain by putting the pliers into the crossbar openings, and turning everything counterclockwise with the screwdriver to unscrew and remove it.
If your tub doesn't have crossbars, you are going to need a special tool that you can place into the flange. It can then be spread and tightened against the walls so that you can turn the flange and remove it.
Putting Everything Back Together
After acquiring any replacement parts that you find you need, you'll want to wash any fixtures that you are going to re-use with vinegar and baking soda. Then, put a line of plumbers putty around the underside of the strainer lip before screwing it back down into the tub drain, so that it is waterproof. Then, simply replace all the parts of the drain in the reverse order from how you removed them, and you're done.