Five Top Tips to Prepare Your House for Sale on the Outside and Inside
by Nick Marr on Aug 21, 2019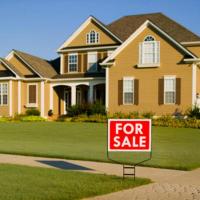 When preparing to sell your house, there are a few things that can make a huge difference in both the appeal of your house to buyers, as well as the final amount you can offer them on the house.
Exterior Tips
The first thing to focus on is the appeal of the exterior of your house. This is the first thing that potential buyers will see and first impressions matter, so take some time to make sure it looks the part. Take some time to look at the other houses on your street and look for opportunities to make sure it stands out. There are a few key things to focus on. The first is to make sure your front lawn is freshly mowed before you take any pictures and before any viewings. If you have a front yard rather than a lawn, try to ensure it's clean and that there are no weeds.
The next thing to look at is the actual front of the house, and the two things that are quick to do but can make a big difference are your front door and windows. A fresh coat of paint can do wonders to make it look new again. This counts for your windows as well. The next thing to do is to make sure all your windows are cleaned both inside and out.
Some other considerations are to tidy away any toys or other clutter there may be around your garden and yard, which can make a house look untidy very quickly. Having great pictures can make a huge difference, so if you're using an agent make sure to take advantage of their photographer.
Interior Tips
Once the outside of the house is looking clean, it's time to move on to the inside. The first tip that can make a huge difference when trying to sell is to depersonalize the decor of the interior of the house. This starts with taking down any pictures of your family and friends, as well as removing all of the pictures if possible. If you have a feature wall or some slightly eccentric choices in wallpaper, it can be a good idea to remove this and replace it with something neutral. When people are looking to buy, they are trying to imagine themselves living in the house, which is much easier when the rooms look neutral. Also, if you have a bold or unique taste, this may not fit other people's, potentially putting them off the house.
Similar to the exterior of your house, make sure to remove any clutter that may make the house look messy. This will help ensure that the rooms' sizes are maximized when viewing them. Along with this, a deep clean is a must. Clean everything from the floors and walls, and especially focus on any built-in units like the inside of the oven. A messy, or even worse, funky smelling room can put people off a house faster than anything.