Creating the Perfect Outdoor Kitchen
by Dorian Travers on Aug 18, 2014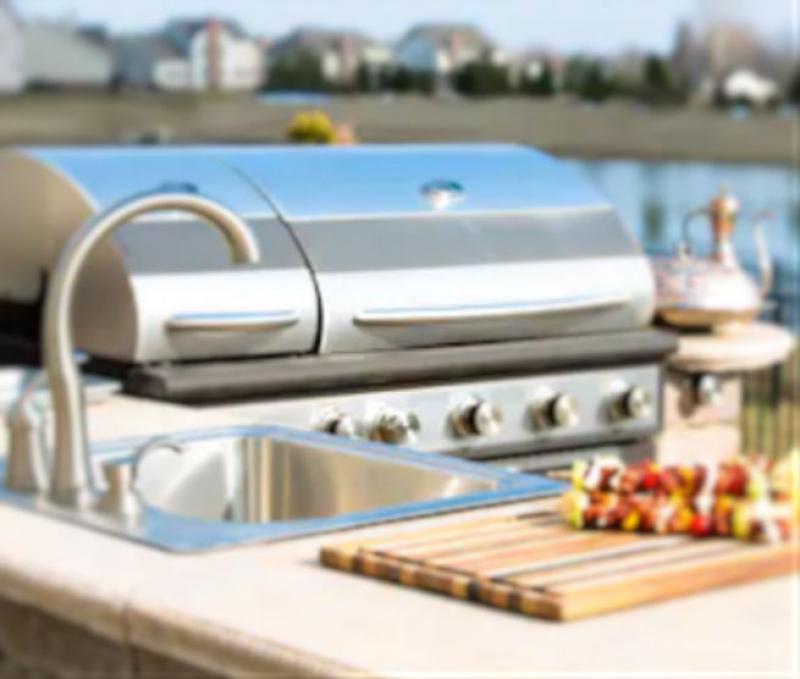 When you look out at your backyard what do you see? If there's an open space that seems to be calling your name, begging for a little creativity, then an outdoor kitchen might be the ideal project for you. An outdoor kitchen can be as simple or elaborate as your budget allows. You can hire a contractor to handle an expensive build or go the DIY route by sprucing up your grill station. Whatever you decide, adding an outdoor kitchen will add value to your home while creating the perfect setting for memorable meals under the stars.
The cost of an outdoor kitchen depends on many factors—namely size, layout, quality, appliances, and materials. A basic kitchen typically costs between $2,000 and $10,000 while bigger, luxury kitchens can cost $50,000 or more. The good news is that an outdoor kitchen can increase the purchase price when selling your home—by as much as 130% of construction costs. If there are other homes listed in your neighborhood, a backyard kitchen will make your house stand out and drive up the bidding price. Think of it as an extra room without the major cost of an addition. That's how realtors will think of it when marketing the home.
Where to start when planning an outdoor kitchen? Explore your space. How much room do you have to work with? Do you want to build an entire patio or just a cooking island? What style would mesh with your home?
Think about the types of events you like to host.  Do you love BBQs where you can show off your prowess on the grill? Do you want an oven where you can bake your famous homemade pizza recipe? Or do you prefer a comfy spot to sit and have drinks and dessert with friends? An outdoor kitchen is an opportunity to create an ideal atmosphere to entertain. No need to run back and forth into the house when you can cook outside and enjoy the company of friends.
Let your budget be your guide when making decisions. It's best to establish a budget and determine what you can afford before you start shopping for materials and appliances. The last thing you want is to fall in love with a granite countertop that costs thousands of dollars more than you can afford. You'll feel much better in your backyard kitchen knowing that you made thrifty decisions and didn't overspend when building it.
When going the DIY route, you can create a great, functional outdoor kitchen with only the essentials. A grill, under-counter refrigerator, storage cabinet, and ample work surfaces and lighting are enough to throw a great BBQ. A sink comes in handy, and you can run a cold water line that drains into the garden. Building an outdoor kitchen makes a perfect summer project for DIY enthusiasts. The best part is that construction won't disturb the interior of the house—no displaced furniture, paint fumes, or dust—not something that can be said for most construction projects. >(Source: DirectBuy)