Places to Consider Anti-Slip Matting
by Guest on Jun 24, 2011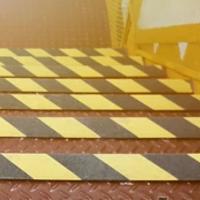 Anti-slip matting goes beyond the rubbery material you see a few square inches of in kitchens or caravans. It can encompass small foot-mats to whole floors of rubberized, non-slip material.
There are five main locations around a commercial building where an anti-slip mat would be highly recommended; stairways, slippery areas, wet areas, ramps, and irregularly-contoured surfaces. If you have any or all of these in your workplace, you need to ensure that they are protected with safety matting and it is the right type for the purpose.
Entryways are the prime example of where anti-slip material needs to be in use. Firstly it needs to be non-slip to properly protect someone who's just walked in from the rain outside with slippery shoes. Just a few steps on a polished floor and there is a huge risk of slipping over.
A non-slip mat positioned there would dry off the person's shoes, enabling them to walk with relative confidence on the indoor surface.
However, for the example above, the non-slip mat would also need to be extremely durable. Not only would an entrance mat take the majority of traffic during the day, but it is also a place where people scuff their shoes to clean them - furthering the need for material that will do the job properly and for a long time yet.
In other areas, such as outdoor decking in a pub garden or café al-fresco area, proper care needs to be made to ensure that the flooring there is safe to use even when wet, which bare decking often isn't. However, you would also need to consider something that is not only anti-slip but also drainable, as it can be left out in all weather conditions with little worry of it affecting its lifespan or effectiveness.
Anti-slip matting is something that we often only notice when it isn't there, but by which point it's often too late. So it's certainly worth paying attention to where your office or workplace could benefit from its installation.