Wallpaper Repair - Repasting, Blisters, Tears, Spots
by Guest on Feb 13, 2020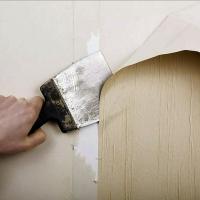 Damaged wallpaper can be repaired. It's ideal if you have extra wallpaper that matches the pattern for repairs.
Repaste Wallpaper:
Lift loose wallpaper carefully. It may be necessary to wet with water.
Spread thin wallpaper paste underneath.
Smooth down with a clean, damp cloth. Note: For newer plastic-coated papers, ask the wallpaper store for correct paste.
Remove a Blister in Wallpaper:
Cut across blister with a very sharp razor blade, cut along a line in the pattern.
Lift edges carefully and spread thin wallpaper paste underneath.
Smooth down with a clean, damp cloth.
Repair Tears or Holes:
Tear a patch out of leftover scrap. Torn, irregular edges show less than a smooth cut edge.
Spread thin wallpaper paste on the back.
Position patch to match the pattern and smooth down over the hole.
Removing Spots and Stain from Wallpaper
Fingermarks, smudges, pencil marks: Rub gently with an art gum or commercial wallpaper cleaner. On washable paper, wipe with a damp sponge, or sudsy sponge and then damp sponge if needed to remove the mark.
Grease Spots:
Hold clean white blotter or several white paper towels over spot and press with warm iron until grease is absorbed by towels.
If grease still remains, apply a paste spot remover; brush off after it dries to a powder.
If washable paper--may be able to wipe off with a sudsy sponge, followed by a damp sponge.
For crayon: you have to remove both wax/grease and color:
If the thick amount left, scrape off excess with table knife.
Use a warm iron and white paper towel method as under "grease spots".
For non-washable papers, try paste spot remover as under "grease spots". Or wipe gently with a cloth moistened with denatured alcohol or spot remover; these are flammable and vapors are toxic, so be sure there is no flame, spark, or pilot light in an area, have plenty of ventilation, and use only on small spots.
For washable papers, use a sudsy sponge after steps 1 and 2. Try not to smear the residue.
Buy washable crayons for children!