5 Signs Your Roof Needs to Be Replaced
by Joe Goldstein on Oct 23, 2018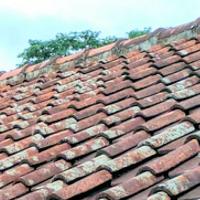 Small leaks, missing shingles, and a lot of other simple problems can develop on your roof. But are they a quick fix, or a sign the whole thing needs to be replaced? Thankfully, they are usually a quick fix. However, you don't want to put the money into repairs if your roof actually needs replacement. So you need to be sure about how serious your roof's issues are. These five signs indicate you may be in for a full replacement.
1. Missing Shingles
After a particularly gusty day, you may notice a few shingles missing from your roof. If it was just installed, the missing shingles just didn't have time to adhere and new ones can be put right on. However, if your roof has been on for years, a more serious problem might be happening. The adhesive on the back of the shingles may be wearing down, and more shingles are likely to follow. It's best to replace them all rather than call for constant repairs.
2. Roof Valley or Chimney Damage
The two most likely spots to leak on your roof are the valleys and chimneys, particularly around their flashing. Roofing professionals know these spots are vulnerable, and the good ones put extra care into them. Therefore, if your roof has been loyally serving your home for years and suddenly develops a valley or chimney problem, it could be a sign the roof is simply getting too old.
Few of us installed our original roof, so we can't be quite certain about its age. But valley and chimney conditions are a good indicator. Unfortunately, if they are damaged, the rest of the roof may follow closely behind. If you do happen to know your roof's age, you can expect 20-25 years out of the shingles. After that point, replacement is more cost-effective than repairs.
3. Shingle Granules
Shingle granules are little specs of shingle color that look like gravel. If you find them in the gutters, you may have a problem. New shingles tend to lose granules, but after the first few rains, they should stop. When older shingle loose granules, it usually means they are wearing out. You could have a few defective shingles, and simply replace those, but if they're all degrading it's best to invest in a whole new batch.
4. Sagging or Bulging
While you may not give an unusually curved roof a second thought, depressions and bumps are very bad news. Usually, this is caused by poor ventilation. Moisture builds up in the roof and swells the decking. That's the base wooden layer of the roof, and if it does have problems, the entire roof needs to be replaced, and proper ventilation needs to be installed. Otherwise, the moisture will rot the roof and the depressions or bumps may catch more water.  
5. Moss or Algae Growth
Moss or algae growth on shingles is also usually serious. It means that the shingles are holding moisture, not expelling it, and the plant growth will damage the shingles. Those homes on the waterfront or in humid areas might develop moss or algae frequently. For those homeowners, a replacement with a metal roof or algae-resistant asphalt shingles might be the best long-term solution.
Ultimately, only a qualified roofing professional can tell you whether you need a full roof replacement. Be sure to do your research, ask for references, and never hire an unlicensed roofer.