How to Prolong the Life of Your Roof
by SGV Consulting on Sep 27, 2020
One thing is for sure; the average homeowner probably doesn't spend too much time thinking about their roof on a day-to-day basis. In fact, I'm willing to bet that most homeowners don't give their roof a second thought until there is a problem. Unfortunately, this allows small problems to develop into bigger problems that can lead to expensive repairs or even a roof replacement.
But according to any experienced roofer you ask, there are three things you can do to prevent premature deterioration of your roof and prolong your roof's lifespan. This not only allows you to save money on having to replace or repair a roof, but also prevents costly damage that can occur to the structural part of your roof or the interior of your home when a roof is compromised.
Trim Your Trees
Trees serve so many purposes on a property. They can provide shade that cools down your home and yard. They can provide fruit. They can beautify the landscaping as well.
However, trees can also present risk to your actual structure if not cared for properly. As a tree continues to grow, it may be closer to your home than was expected when first planted. It can even have branches that hang over your roof. When this happens, the risk is two-fold.
One, a branch may break and fall onto or through your roof. And, this doesn't only happen during storms. This can happen if the branch is dead or diseased as well. As you can imagine, a heavy branch can end up causing quite a bit of damage. From denting tiles or shingles, to breaking through the roof decking, the damage can be extensive and costly to fix.
Two, even if a tree does not fall on your roof, it can have branches that are in constant contact with your roof. As they sway in the wind day after day, they can start to wear down the protective coating on your roof's shingles or even dislodge them. Not only this but if the tree provides substantial shade to that part of the roof, it may inhibit the evaporation of moisture from your roof that can degrade your roof over time.
The only way to prevent this is to make sure to trim your trees regularly so they don't threaten your home.
Clean Your Gutters
Proper installation of rain gutters is intended to divert water from your home's structure, foundation, and landscaping, which makes them very important. Too much contact water with water over time can cause damage and erode protective materials of your home.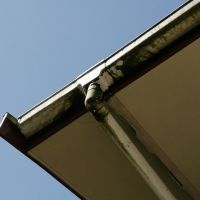 For gutters to function properly, they should be free of debris, should not be rusted and should have no gaps or broken connections. Pretty much, anything that prevents the smooth flow of water through the gutters and down the downspout should be removed or fixed. Otherwise, gutters get backed up and water can pool onto your roof. Over time this can damage shingles and the flashing leading to costly damage.
Check Your Attic
It's a good idea to peek into your attic every few months. Your attic is the closest interior space to your roof. So, any problems or leaks will first be apparent in the attic. Some things to look for are any signs that water has penetrated through the roof. That could be water stains on the ceiling, on the frames and joists as well as stains on the wall. Other signs of water seeping through are small black dots or even large black areas.
You'll also want to notice any sagging of the ceiling or any problems with the frames or joists. These would suggest there is a problem that has impacted the structural integrity of the roof and a roofer needs to be called right away.
As you can see, these are things every homeowner can do to help maintain the health of their roof between inspections.