Useful Tips When Looking for Metal Beds
by Guest on Dec 4, 2012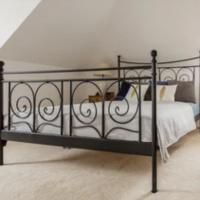 Beds with frames made of metal can either look contemporary and fresh or give an antique touch to the room, depending on the design and the conveyed texture. It can be subtle or dramatic, modern or romantic. Among the many styles available, you will find something that you will love.
Before proceeding to check the actual designs, assess your budget and set a rough sum you can afford to spend. You may fall in love with an outrageously modern bed frame made of metal, one that looks stunning but is priced beyond your possibilities. Fortunately, there are ways to find the best value beds at discounted prices. Your solution is to search online for those websites which sell these. Being persistent is the key. It will take some time until a sales website is found, but it is surely worth the effort. Also, it's even more of a gain if the supplier you find grants free delivery.
For some, buying a completely new bed might be too much of an expense. The solution at hand is to acquire only the bedhead, which will still do a very nice job in creating the look which you desire. The investment is thus going to be incomparably lower. Are you desperately chasing an antique brass bead? You can achieve the look with replica metal beds which come at discounted prices. These are made to look like beautiful traditional beds. The design of these beds will not disappoint you, so it is basically useless to hunt for "the real thing". Children's rooms also look wonderful with metal beds. These, being single-person and small, are more affordable. If a modern design is chosen, then the child can enjoy this bed as a teenager as well.
Need extra support for the bed you buy? Then it is important to find one with a sprung matted base, as this makes for a firmer surface for the mattress. Consequently, it won't be necessary to spend extra on your mattress, because no additional support is needed. You may just invest in a simple one. To further improve comfort in your new bed, read the tips about bed construction at the end of this article.
Besides these 'technical' details, consider the color scheme in the room. Metal beds come in many colors or shades. The differences which may not be too obvious at first will make for a disharmonious effect when the bed is set in place in its destined room. Therefore, be careful with this and make it match the existing colors. White metal and black represent a choice you can't go wrong in many situations because it suits much of the room décor today.
The weight of the metal bed might be important to you. Those made of massive irons area well heavy. Solid iron beds weigh about 80 kg. Beds made of bent tubes, however, are not so heavy and do not feel too solid either. To see what it is made of, position yourself in front of the bed head and try to move it. Also, make sure the bed doesn't creek by testing it for that. It will be very annoying if it creeks due to poorly made connections between the sideboards and the bed heads. Labile construction is often to blame. The most stable beds are put together with screws and nuts and not with systems similar to door hinges.
Once you have found a decently priced metal bed or bed heads, and once you've matched its color with the room and checked the connections so that it's reliable and stable, you may purchase your new piece of furniture and enjoy the improved, stylish look of your home.