Spice up Your Drab Room with Area Rugs
by Kevin Williams on Aug 25, 2017
Do you have a dull room you're looking to improve? How about a boring space that you just can't seem to pull together no matter how hard you try? Looking for a way to bring some life into a room that hasn't looked lively for a long time?
The solution might be easier than you think!
One of the best ways to spice up a drab room is to bring an area rug into the space. Area rugs can add pops of color, bursts of fun patterns, or even a sense of refinement that your room may be lacking. But when it comes to using an area rug, you may be at a loss. After all, decorating with rugs can be tricky, and there are ways it can go wrong.
But when you know what you're doing, an area rug can be a huge benefit.
Check out our tips below to help you put your favorite area rugs to great use in even the dullest of spaces.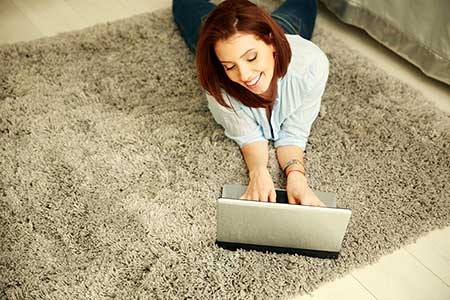 Stylishly Centered
Though you might be tempted to use your rugs as accent pieces, you may want to think again. Accent pieces can be fun and functional both, but with a rug as the centerpiece of your room, you'll never have to worry about your space looking drab again.
For best results, you'll want to choose contemporary area rugs that either incorporate the other colors used throughout the room or complement them well. If your room is already looking a little boring, you probably should stay away from neutral tones unless you're planning to overhaul the whole space.
And just because you're using your rug as a centerpiece doesn't mean you have to pick a large rug. Smaller and mid-size rugs can make excellent modern-style focal points in any room, too.
Choose Your Mood
The rug you select and the way you use it will both depend largely on the mood you want to set in your space. Do you want something cool and gentle for a bedroom? If so, you may want to go with rugs in shades of gray, blue, or possibly cream. How about something perky and lively for your kitchen? Yellow, orange, or brighter shades of blue and green can work well for this type of room.
Any room that needs a little extra life and excitement is sure to look great with a colorful rug on the floor, but try not to go overboard. "Whimsical" can definitely become the mood of your room with the right rug to help you along, but take care that you don't overload the visual weight of the space with too many different colors that may clash.
Don't Forget the Walls
You can always think way outside the box and use your area rug as a piece of wall décor instead. This may seem a little nontraditional, but decorating with wall tapestries is a style that goes back centuries. This tends to look better with antique-style rugs, but there's no reason you can't try to pull it off with a more contemporary rug instead if that's what you prefer. Just remember to follow the rules of rug decorating and choose something that complements or matches your room to be successful.
If you're looking for an affordable rug, don't forget to check out websites online to find just what you're searching for. And if you've already got the perfect rug for your space, be sure to try out our tips and see how your room can truly come to life. You never know when just a few changes to the layout of your room's décor might really add excitement to a room that needs it.