The Best Type of Flooring for Your Hobby Room
by Guest Post on Jul 26, 2012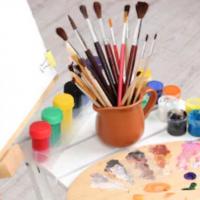 While life mostly consists of working, sleeping, and eating, most people have some kind of hobby or hobbies, whether it is playing the guitar or reproducing famous sculptures using matchsticks. Those who are fortunate enough to get to have a hobby room installed in their house must wonder what type of flooring they should use for it. Well, regardless of the kind of hobby one has, resin flooring should be perfectly suited for the hobby room as it has several practical uses which can come in quite handy.
So what precisely makes resin flooring such a good option? Well, to start things off, this type of flooring was made with the petrochemical and power industries in mind, meaning it is exceptionally durable and resistant to all kinds of different hazards. They can withstand extremely high impacts and scratches, not to mention that it deteriorates extremely slowly, meaning it will last you for years and years on end.
But if resin flooring was made for professional purposes, why would anyone want to have it in their home? Won't it be too expensive or require some kind of complex method to be laid down? Well, for one it should be noted that resin flooring has been adapted for domestic usage many years ago and more and more people are going for this option for the reasons mentioned above. Second, resin floors are better than your run-of-the-mill, bland wood floorings seeing as how they can be ordered to have completely original and unique color schemes, motifs, and even company logos if you wish to.
As far as the installation process goes one doesn't need to install a completely new floor; a coat of the resinous substance simply needs to be applied to the already existing floor. Needless to say, this option is much less expensive, not to mention less nerve wracking than getting everything redone for the sake of a new floor. Of course, there are steps that need to be followed precisely to make it work, but those who are good at following instructions won't have any trouble with it.
What makes resin flooring suitable for a hobby room? Well, a hobby room is designed to be a person's free creative space where they can do whatever they want, however they want it. As most people can testify, free experimentation can be quite messy, especially if you are looking to try out different hobbies. The floor in this room needs to be prepared for any kind of scenario and under no circumstances should it be limiting you in the hobbies you can or cannot do. On top of providing you with an extremely durable, reliable, and resistant surface on top of which to work, resin flooring also allows you to let loose your sense of style by making some kind of intricate color pattern or eye-catching motifs.
Unless you are experienced with flooring and know the process to go through yourself, it is highly recommended that you get into contact with a company specialized in home improvement and get some reliable experts to do the resin flooring for you.