Selecting Modern Rugs
by Guest on Oct 11, 2012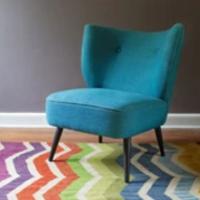 Modern rugs can help to promote the general appearance of the rooms. They are available in different styles and designs hence there is a rug for you no matter your specific needs and preferences. However, to derive the full benefits of using these home decorating accessories, several considerations need to be factored in during the selection process.
Colour- Just like paintings or furnishings, the wrong choice of color can compromise the overall mood and style of a stylish space. Though the type of color selected relies heavily on one's taste and preferences, it's very important that the selected color compliments other home decor accessories such as floor and wall paintings. For example, the modernized colonial-styled rug is quite sleek, elegant, and perfect for a modern home. Rich and dark colors are known to create a cozier and warm feeling while light colors are best for creating an illusion of more space.
Material-Different modern rugs are made from varying materials; this, in turn, dictates their durability and efficiency in promoting the overall look of the house. Rugs made from high-quality materials are more durable and convenient to use. It's important to note that polyester and nylon rugs are quite easy to maintain and affordable as compared to those made from natural fibers such as silk and wool. It's also wise to choose a rug that provides comfort feeling as one walks or lies on them.
Size- The selected rug needs to cover the designated area completely. Knowing the exact total area of the room will help in choosing the right rugs available in the market. By placing identical sheets of paper on the floor, one can easily estimate the size of the most convenient rug to purchase. This will in turn help to avoid the purchase of too small or too big rugs whose price may not be directly proportional to their quality.
Style and Design- As mentioned earlier, it's good to choose rugs that enhance your home decor. A patterned rug is the best choice if the furniture and other accents are not arranged in a given pattern. One can also choose to use different patterns but they have to have some similarities such as the same colors or patterns. One of the main advantages of using a patterned rug is that it helps to camouflage stains and dirt, especially in areas that experience high traffic.
Price- Modern rugs have varying price tags on them depending on their quality and design. Cost analysis can help in picking a rug whose price fits well within the stipulated budget. However, top-quality rugs may be a little bit expensive but this is just a small price to pay considering the utility that can be derived from the product.
Be sure to purchase from credible suppliers who are best known for their ability to supply quality products to clients. It's also wise to seek other professional advice from experts on how to effectively arrange the rugs in the house. Modern rugs are the best home decor accessories that will give the rooms a new elegant look.