Concrete Driveway Staining Tips
by Guest Post on Oct 5, 2012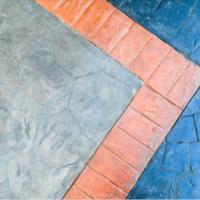 One modern option to add more colors, design, and character to your concrete driveway is to stain it. With a quick stroll inside your local hardware store, you may collect many catalogs showing you the beauty of a perfectly stained concrete driveway. In recent years, homeowners and drawn to this option because of the economic factor and the flexibility in colors and designs, it is only limited by your imagination. But, before jumping in on the project, there are tips that you must know.
The first and most important tip is to check your local weather forecast. Avoid starting your staining project if there is rain in the forecast for the next few days. Rain is absolutely the worst enemy of stains. Excess stain or stain residue will be carried by the rainwater and go all over the place. Your stained surface will end up with uneven color or even discoloring. If the rain comes unexpectedly before your stain has fully dried, make sure to cover your stained area the best way you can.
The second tip is also related to unwanted water. Most often, your concrete driveway is right next to your lawn or other vegetation. So check your automatic sprinkler system, make sure the sprinkler heads are all functioning and pointing only towards your lawn. If your lawn and driveway are on a slope, watch out for the excess runoff from the wet area. Better yet, it is safer to simply switch off your sprinkler system for a few days.
Applying surface sealer is important for outdoor concrete staining. Acrylic is the material of choice because it can let moisture in the slab escape. Acrylic is also UV stable, economical, and easy to apply. For a concrete driveway, normally you do not look for a shiny or wet look. Therefore, a silicone-based penetrating sealer would be most recommended.
The last tip is to avoid over-application of the secondary accent color. Keep in mind that, in most projects, the secondary color should make up only 10% to 20% of the visible color. Over application may lead to failure in the sealer layer on top. If the secondary color has a darker accent, over-application may also lead to brown spots.
If you decide to go DIY, these are just a few simple tips that you must pay attention to. An experienced concrete paving and concrete staining professional will be able to give you more expert advice. Alternatively, you can simply give your project to a pro. They will connect you with quality local concrete contractors serving your neighborhood.