Home Office Flooring - Whats Best for You?
by Guest Post on May 11, 2011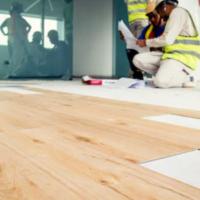 Okay, you're up to speed on all the other DIY projects else in your house, now it's time to move on to your home office. Even if you do not spend most of your working day in your office, having the right flooring is important. There's a huge variety of choices for flooring in an office, you need to choose one that is the best for your use and budget range. You could also factor in that some flooring is much quicker to install than others. I've got a few insights that will help you make the best choice for your home office space.
Budget Friendly and Easy
You can purchase a good quality square of linoleum, or vinyl flooring, or carpeting. With carpeting, you will need a chair mat to lay down so that your office chair can roll easily. Another great choice with a very low pile is carpet squares. An advantage of these little gems is the fact that if you spill toner onto one of them, merely pick it up and replace it. Linoleum and vinyl flooring can often be cut fairly easily. Linoleum is made from partly or wholly recycled materials in today's market. Be careful about what your flooring is made from, the products used to create flooring may be very smelly if you are chemically sensitive this might not be the best choice.
Medium Priced and Moderately Easy to Install
I'd class bamboo flooring laminate flooring in this category. One problem with bamboo is that chair wheels are very hard on it but if you place a chair mat over your bamboo, then you can protect it easily. Bamboo is a green substance because it's just a giant grass that grows very quickly and so can be classed as renewable. The best type of bamboo flooring is that which simply clicks together and is backed with cork. You should lay down a thin layer of underlayment underneath the bamboo for protection if you have a cement floor, and for additional cushioning if you have a wood subfloor.
Expensive, and Call in the Pros
Having real wood floors in your home office is perfect. Hardwood lasts a very long time and can always be sanded off in case there are wear marks on it. How many times you can do this depends upon the thickness of your floor. Engineered hardwood is real wood, but it has been manufactured in a factory. The advantage to this is that the planks can be made to look like almost any kind of wood. As with real hardwood, planks do snap together but you need to use either glue if you have a cement floor, or nails if you have a wooden subfloor. Either hardwood or engineered wood would be my choice for a home office floor.
Mixed Flooring Can Work Too
Some people like the advantages of a ceramic tile floor with a rug in a non-chair area. Ceramic, stone, porcelain, and other types of tiles are used quite often for flooring under many different circumstances. If you've taken over an old bedroom in your home for your home office, then there could be mixed flooring underneath your feet. You may be able to make it work, or you may have to take the entire thing up and redo it. Whether or not you replace or install office flooring, can depend on the time you have available. If you have to get back to work quickly, then choosing an easy option as well as one which is not very expensive, might be the preferred choice. If you're trying to save money, and if your office is small, then you may be able to get an end run of titles, a leftover lot of hardwood, or even a square of carpet that would fit perfectly into the office.
Furniture And Decor
If you are starting from scratch with your home office you don't have to think about matching colors and styles. But often this is not the case, so you can't look at your office flooring in isolation. If you already have a computer desk in cherry for instance then it's unlikely that a bamboo floor will look appropriate. Certain floorings go better with certain types and styles of furniture than others. Get some samples from the shop and set them against your furniture to see what the effect is, the same obviously goes for the decor. Shop around a bit for your choices before you decide on flooring for your home office.