Convection Microwave Uses
by Guest Post on Mar 29, 2011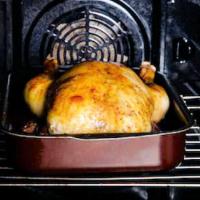 In the world of modern technology, a convection microwave has become one of the most used appliances in the kitchen. A convection microwave can be used to heat foods speedily because it cooks so much faster than an electric or gas oven. The convection microwave may soon take the traditional place of the oven in our culture. Because of the hurried lifestyle we lead, many families are moving away from using the conventional gas or electric oven when preparing meals.

One challenge with our fast pace is that meals tend to be less nutritious if one is simply heating leftovers or warming frozen meals. With the convection microwave, however, one can quickly prepare nutritious home-cooked meals in about 2/3 the time it would take in a gas or electric oven. Texture and color no longer need to be sacrificed to the speed of the traditional microwave if you use a convection microwave. The convection microwave uses a heating element to heat air which is then circulated by fans. The hot air moves evenly throughout the interior of the convection microwave and quickly and evenly cooks the food. The circulating air also browns foods, so that you have the perfect blend of texture, taste, and color.

Families with children of all ages can easily use the convection microwave to warm up leftovers for after school snacks or to heat those frozen dinners when time is shorter than usual. Using a convection microwave is one way to be assured that everyone gets a meal in between all of the activities and events that so many families participate in today. This type of meal can be warmed in a convection microwave when there is no time to plan a meal or when there is little time for preparation and eating.

The beauty of the convection microwave is that you can still bake and broil foods that you used to have time to cook in your gas or electric oven. Cookies and cakes turn out beautifully. You could even cook a Christmas turkey for your family using one. Many new models of the convection microwave come with recipe books and help for planning nutritious and quick meals. Using the convection microwave oven allows you to use less oil when preparing foods. Traditional cooking often uses quite a bit of oil. This cuts down fats and aids in healthy meal preparation. The convection microwave also helps to preserve the natural nutrients in foods, as well as the taste and texture you are used to from regular baking.

By using less time in your cooking, you also use less energy. Because of the air circulation in a convection microwave, food can cook at lower temperatures and also cooks faster. Faster cooking at lower temperatures will translate into energy savings. Saving energy can also mean saving money. If you would regularly use your convection microwave oven for cooking meals that normally take a long time to cook, you would save quite a bit of energy over time.