3 Ways to Prepare Your Lawn for Fall
by Ray Winters on Aug 16, 2019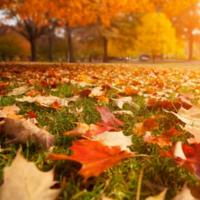 The end of summer marks the beginning of your lawn fading from vibrant green to dormancy after Labor Day. But lawns require treatment and care as the temperatures cool and the long winter approaches.
That's why it may be in a homeowner's best interest to work with a landscaping specialist to prepare your lush green grass for the impending chill. By taking the following proactive measures during late summer and early fall, you can expect a worthwhile return.
1: Professionally Aerate Your Soil
The roots of your lawn require air, water, and nutrients to grow and maintain a thick healthy appearance. When the topsoil becomes even remotely compacted from foot, and other traffic, its ability to secure essential elements can be diminished. It may surprise homeowners, but lawns can suffer when less than a ½ inch becomes compacted. That can easily occur from walking, outdoor activities, or children romping on the grass.
Aeration involves making small holes into the soil that help the roots enjoy improved nutrition and water. By preparing your lawn during the dog days of summer, you are likely to experience vibrant regrowth come spring.
2: Address Vacant Spots in Early Fall
One of the faux pas homeowners sometimes make is waiting until the summer heat arrives to identify bald spots on your lawn and try to address them. Summer may not be the best time to incorporate new grass seeds to target these brown patches. If you are unhappy with their presence at summer's end, having a professional address them in early fall could prove fruitful.
The moderate temperatures of early fall lend themselves to productive grass growth. A professional lawn care outfit can deftly prepare the soil for seeding and select the best product to match your existing grass. All grass seeds are not created equal. Some have distinct colors, and an improper match could result in a patchy front yard. Get expert help when confronted with bald spots.
3: Leaves and Fertilization Go Hand-In-Hand
There are a few misconceptions about autumn leaves that trip up property owners. The most common is that allowing fallen leaves to remain on grass over the winter will help insulate it. Failing to manage fallen leaves generally results in roots being cut off from adequate water and nutrients. Basically, letting leaves remain could substantially harm your lawn.
There are two methods of addressing the fallen foliage that can help grass come back thicker and full next spring. A lawn care specialist may opt to mulch those leaves down to small pieces and return them to the Earth as grass food. Other lawn care professionals may decide that the unique aspects of your grounds lend themselves to raking leaves up and utilizing appropriate fertilizers.
As summer wanes and the leaves begin to change, lawns require seasonal care. These are three considerations that can deliver enhanced benefits next spring. It's also essential to work with a lawn care professional who can help you make informed decisions about the next steps and the sustained enjoyment of your property.