Citrus Canker Disease
by Guest on Apr 28, 2012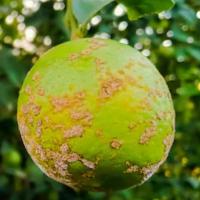 Citrus canker is a serious disease affecting most citrus plants. It has been spread throughout the world, most likely originating in Asia. The disease is caused by a bacterium Xanthomonas axonopodis.
Transmission
The disease is spread over minuet distances utilizing wind, rain, insects, flooding, birds, and, yes, humans. It can also spread over large distances by the transportation of infected material, trees, and fruit.
Even when a tree looks healthy, it may be infected so never transport citrus when there is an outbreak of citrus canker.
Who and What's affected
Most citrus trees are susceptible to citrus canker. This disease is harmless to humans and animals but can destroy entire fields of citrus trees.
Canker usually is first noticeable 7 - 14 days after infection. The disease appears in small lesions on all above-ground parts of the tree. The lesions on leaves sometimes fall out leaving small holes in the leaf.
The lesions look like blisters that are round, straight, or twisted on the tree. The lesions are usually black or brown.
Citrus Canker Control
There is currently no treatment or cure for citrus canker, and the only known way to control it is by eradicating it. Whenever there is an outbreak of canker, the local government establishes eradication programs to destroy all infected trees and enforce laws to stop the spread of the disease.
History
Citrus canker is said to have originated in Southeast Asia, then spreading to the outer islands. Canker than spread to Australia then South America. From South America, it made its way to the West Indies and the U.S. In 1986 citrus canker was first found in Florida. It was said to be eradicated in 1994. In 1995 and 1997 two more citrus canker outbreaks were discovered in Florida.
Robert Lenzen
Landers Nursery & Landscaping, Inc.