7 Home Improvement and Remodeling Ideas that Increase the Quality and Value of Your Home
by Nick Marr on Nov 4, 2019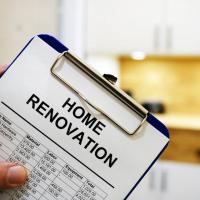 Whether you are a new homeowner, or you simply want to revamp and increase the value of your house, there are many different home improvement and remodeling ideas that you can consider. There are many different reasons that you may consider making substantial changes to your home, from improving your living space and standard of living to increase the value of your home. Whatever your motivations are, it is important that you know what changes you should make, and that you are making them for the right reasons.
Similarly, the changes that you make to your home will be influenced by whether you intend to put your home on the housing market in the future, or whether you want to create the perfect living space for you and your loved ones. Your home should be a reflection of your life and should serve you in the correct ways. For example, if you like to host parties, then a dining room is a must-have for your house! You should keep this in mind when planning the changes that you can make. To give you some more ideas, we have put together a list of 7 home improvement and remodeling ideas that can increase both the quality and the value of your home.
Kitchen Remodel
One of the most popular and effective home improvement ideas is having a kitchen remodel. This is a great way to increase the value of your home (as a brand-new modern kitchen is very popular amongst potential buyers) but will increase the quality of your home life. The kitchen is largely regarded as the heart of any home and having the correct space that works well and follows your needs is a sure route to the perfect kitchen space. A kitchen remodel is considered one of the safest home improvement projects you can take on, as research shows that you can expect to get back around 60 to 120 percent of your investment.
However, there are a few things that you should be aware of if you are considering a kitchen remodel. For example, you should be sure not to overdo things when it comes to making your kitchen more modern. You should ensure that your kitchen isn't fancier than the rest of your home, or the rest of your neighborhood, as it then won't fit in with the atmosphere and vibe throughout the rest of the house.
Add a Bathroom
Every home could benefit from having another bathroom added, as this is a great way to improve your home, both in quality and value. Therefore, if you only have one bathroom in your home, then you should seriously consider this home improvement project. Research has shown that you can get back around 80 to 130 percent of what it costs you to add a new bathroom, so it is well worth investing in.
This explains why most modern homes are now being fitted with a second bathroom, and some even include an en-suite to the master bedroom. However, some homeowners struggle to find room for an extra bathroom, so be sure to look out for any underutilized spaces. For example, if you have some room under the stairs, then this could be ideal for a small but useful toilet room. Similarly, if you have a large master bedroom and are willing to sacrifice some space, then you could add an en-suite that way. When it comes to finding room for an additional bathroom, you must think outside the box and be innovative.
Install Solar Panels
Smart energy is a new concept and an addition that is being increasingly used when it comes to modern home improvement and remodeling projects. By making smart energy changes to our home, you can make a huge difference to the damage being caused to the environment, while also making a hefty saving! Therefore, it is no surprise that more homeowners are now getting solar panels installed as a new way to provide energy for their homes. While the installation of solar panels to your home does require a considerable upfront investment, the return on your investment is considerable.
However, if you are considering getting solar panels installed, then it is important that you do your research and find a reputable and reliable company to do the work for you. They offer a trustworthy service that helps to keep you comfortable all year round, from air conditioning to heating systems, and their PV solar panel installation.
Reinvent a Room
Not all home improvement and remodeling projects involve huge renovations, and even the smallest of changes can make a big difference. Similarly, you can make the most out of the space you have, rather than having to spend money on making more space. Fitted furniture is a great way to utilize the space you have, while also creating more storage space. Having plenty of storage space is very important as it appeals to both potential buyers when they view your property, and also makes your life a whole lot easier! If you are trying to make your home appeal to potential buyers when you put it on the housing market, then try and make the rooms as versatile as possible.
Get Air Conditioning
Getting air conditioning fitted is one of the best and most useful facilities that you can install on your property. While some people consider air conditioning to be a luxury, if you live in a warmer state, then you really can't live without it. Air conditioning transforms your home and makes it a whole lot more comfortable, and as you have heating to keep you warm, why not have air conditioning to keep you cool? This will also help to boost the value of your home, while also adding something extra to your home that could seal the deal with a buyer.
Add Energy Efficient Windows
Modern homes are now fitted with energy-efficient windows to both save money and ensure that no energy is being wasted when it comes to heating your home. Therefore, it is worth updating your home while also benefiting from the money that can be saved through the installation of energy-efficient windows. Research estimates that a household can save around $500 a year with energy-efficient windows, meaning that you can get back around 60 to 90 percent of the money you will pay out getting them fitted. You may also be eligible to receive a 10 percent green energy tax credit allowance to make it even more affordable!
Add a Deck
It is important to remember that you can make home improvements and renovations on the outside of your home that will also increase the value and revamp your living space. Outdoor renovations are now a lot more desirable amongst potential buyers and will also allow you to make the most of your entire property. Consider adding a deck or landscaping your yard.
By spending some time considering and planning home renovation projects, and finding the right service providers to do the work for you, you can boost your living space and also add to the value of your home.