Considerations for Removing a Wall in Your Home
by Guest Post on Feb 8, 2011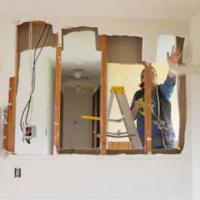 Removing a wall has become a popular home renovation project as homeowners increasingly prefer open floor plans and more connected spaces in their homes. A common project is removing a wall to open a kitchen to an adjoining living or dining area and create better flow throughout shared living areas. Walls are also removed to expand bedrooms and bathrooms or rearrange living space. Because of the numerous factors involved, removing a wall is usually better left to the professionals. Here are a few considerations for an interior wall removal project:
Is the wall load bearing or not? The most important factor in wall removal is whether the wall is load bearing. A load-bearing wall is a critical part of the home's structure because it supports the weight above. A load-bearing wall can still be removed, but the weight it supports must be redistributed and supported in another way. Often, you can add a column or two to support the weight while still creating the open floor plan you are going for. If the wall is not load bearing, it may be removed without affecting the structure of the home.
Are there electrical wires or plumbing pipes inside the wall? If not, you are lucky and the job will be a little easier. But if there are electrical or plumbing components inside the wall to be removed, they will need to be rerouted so that your home remains functional without the wall. The need to adjust pipes and wiring is another reason that most homeowners prefer to hire a pro to remove interior walls.
What will need to be done to create a smooth transition on the adjoining floor, ceiling, and walls? When you remove a wall, the adjoining wall(s), ceiling, and floor will be exposed where the wall was previously affixed. Accommodating the gaps created as a result of removing a wall is an important piece of the project that should be addressed in the project plan and allowed for in the budget.
When you are breaking down a wall, you never know what surprise obstacles you will encounter that must be addressed before the project can proceed. Unless you are experienced with similar projects as well as electrical and plumbing work, hiring a professional for this type of project is advised. Even if you have the experience to tackle the job yourself, getting professional advice before you begin may be helpful.
About the Author: Maria Polidoro is the Founder of Ace Tool Online. Ace Tool is an authorized distributor for virtually all major power tool manufacturers and houses a full power tool service center. Please visit Ace Tool Online for Milwaukee cordless tools, Amana router bits and saws, Festool saws, Occidental tool belts, and much more.