6 Benefits That You Get from Installing Undermount Kitchen Sinks
by Guest on Jul 26, 2010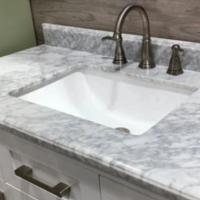 Many homes now have under-mount kitchen sinks that are compact and stylish. Installing these sinks directly under the countertop is the usual process without having an outer lip overlap the counter. You can install these types of sinks in your house and reap many benefits of using them compared to regular kitchen sinks. The benefits offered by under-mount kitchen sinks include the following:
The sinks have attractive designs that will make your kitchen look beautiful especially if you match them with granite or marble countertops. They will impart a classy, clean, and modern appearance to your kitchen.
Undermount kitchen sinks will take up less space than regular top-mounted kitchen sinks. You will therefore have more space to place other kitchen appliances. These sinks will also allow you to clean the sink area easily because of the absence of dirt attracting seams between the countertop and sink. You will find it easy to maintain them because you will only have to clean them using soap or water and then wipe them with a dry cloth.
Undermount kitchen sinks are highly resistant to wear, tear, heat and scratches. These characteristics will ensure that you use the sinks for a long time to come.
The sinks come in different sizes, shapes, and materials. You can have these sinks in materials such as copper, brass, granite, cast iron, and stainless steel. Their sizes range from small bars up to large sinks with double bowls and they can make a complete transformation to the way your kitchen looks.
It is easy and convenient to install the sinks alone.
The under-mount kitchen sinks hide the plumbing components under the sink and this enhances the overall look of the kitchen.
Installing under-mount kitchen sinks is easy provided you follow the following steps:
Know the type of sink that you want and cut the hole in the countertop after buying the sink. This will ensure that you get the right dimensions.
Cut the hole into countertops made of marble or granite and make sure that you do it correctly. Flip over the countertop to mark the drill holes that you will use for the screws.
Make sure that the hole does not have rough edges and clean out the dust before installing the sink.
Place the under mount sink in the hole and then reattach the countertop to the other parts of the counter.