Building or Remodeling a Kids Playroom - Safety First
by Guest Post on Mar 10, 2012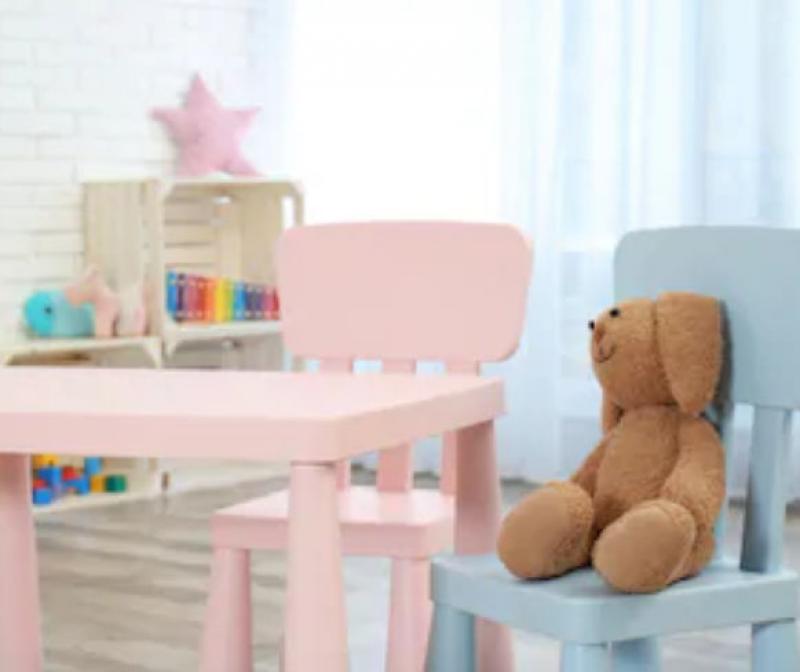 When setting up a playroom for kids, certain safety precautions must be set in place during the design and implementation phases to ensure your children are out of harm's way - especially when you are not around to supervise.
Once the safety measures are in place, it is a good idea to make sure the room is going to be a place the child will be happy to spend countless hours having fun.   From sports car wallpaper to life-size decorations of their favorite television shows (Yo Gabba Gabba, Sesame Street, Sponge Bob Square pants, etc. ), your child will view this room as a getaway to a land of imaginary fairy tales and adventures born and lived out all within this little special room.
Here are some  tips to consider when designing a child's playroom:
Kids and Electricity Don't Mix
There's a reason we hire electricians when our homes need repair - being shocked by electricity can kill a person.  These zaps can range from mild to deathly, and putting a child near a location where they can get zapped is irresponsible and extremely dangerous.   One key place is any electrical outlet as these are close to the ground and in easy reach of a child.   
It's not just that a child will squeeze their fingers into the little slits, but it's also what they will stick in there.  Somehow the desire to insert a paperclip or any other metal object becomes irresistibly tempting for those curious minds, and unfortunately, these can lead to seriously dangerous scenarios.
Safe Flooring Choices
There are different types of flooring you can use to make any room in the home more child and safety proof.   Carpeting, of course, helps soften the fall when a tumble takes place.  Not only does it help with safety, but carpeting provides a layer of soundproofing between the floor and any living space below.   The little sound of pitter-patter doesn't sound so little as they get older and become more active.
If you already have wood or some other flooring such as cement in a basement area, you can look for large area rugs that can be used where there is most traffic.   A great tip is to go to your local carpet store and ask for any remnants they might have.  These are leftover pieces of carpet that can be sold at reduced prices.   Have the store bind the edges so they look nice and won't unravel.
Another type of flooring you can invest in is air flooring tiles.  These can be bought in bright colorful squares that fit together and are easy to assemble and dissemble.  If you already know the colors you plan on using for your room you can purchase them to match your decor.   Otherwise, sticking to the primary colors of blue, red and yellow is always a good choice.
Furniture that Fits
Purchasing tables and chairs that are made for young kids might seem unnecessary at first, but there are safety reasons why these are good investments.   Using adult sized furniture makes it more difficult for children to climb up and down or move things around.   If the object is too clunky to easily move around, the child could experience a nasty topple that might cause bodily harm.  
As recommended by several people and deserves repeating, is to try and look at things from the vantage point of your little one.   Sit on the floor and look around to see things a child might see.   Suddenly that small step ladder you use to reach things in the top of the closet now can be seen as a heavy object that can easily fall on the little one's head if they try to hoist themselves upon it.
DECORATIONS
Wall Decor
Decorating is always the fun part... at least if you have a game plan.   In the case of kids, it's not too different than any other room in your home.   Each room normally has its theme - exercise rooms have exercise equipment, a library has big comfy chairs and a desk for studying.   In the same way, what's the theme of your kids' room - is it about cute cuddly kittens and puppies?   Is it about race cars or other sports like baseball?   Perhaps even choose a theme based on characters found in TV shows like Muno from Yo Gabba Gabba or maybe Sponge Bob from Sponge Bob Square Pants. 
Painting - with brushes, not fingers!
Painting is always the most low-cost way to change the appearance of a room, but when it comes to a child's room, make sure to pick a paint that will allow for dings, scratches and yes the inevitable writing on the wall moments.   Go with high gloss paint, something that can stand up to the scrubbing and cleaning that is bound to take place from time to time.   You can always spruce up the walls by adding wallpaper borders around the top of the room, as well as a border along the middle of the wall similar to a chair rail's location.  
There are lots of ideas for decorating a kid-themed playroom - but safety should always come first.   Always talk to professionals when dealing with any renovation to make sure all materials and plans meet safety standards and will keep your child safe - not put them in harm's path!
These tips were contributed by Liz Krause who enjoys decorating both the outside and inside of homes.  She and her husband are always up to the challenge of redesigning any room with new and creative ideas.  They encourage others to have fun decorating for events from murder mystery themes to a Yo Gabba Gabba party theme - perfect for those with kids.  She suggests that anyone looking to decorate, check out websites that focus on birthday theme parties thus offering ideas that can be shared and exchanged.