6 Things You Need to Know About Unfinished Kitchen Cabinets
by Guest Post on Jul 2, 2010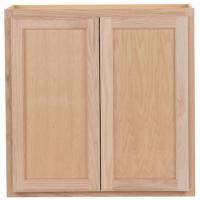 If you want to get a custom look in your kitchen, you can do it affordably by purchasing unfinished kitchen cabinets. These types of cabinets come without the application of finish and you can therefore choose your own look. Unfinished kitchen cabinets are perfect for upgrading your kitchen.
Unfinished kitchen cabinets give you the option of having many colors because you will choose the type of finish you want yourself. You can get beautiful natural colors by using these types of cabinets. For example, you can buy a solid cherry unfinished cabinet to get a rich dark-colored wood, which will work well with any modern home. You can get unfinished kitchen cabinets and delight in them especially if you do the following.
Make sure that you purchase the right size of unfinished cabinets by taking accurate measurements of the areas where you want to place the cabinets. You will find it helpful to measure out the areas covered by windows, kitchen appliances, and plumbing. After that, ensure that you will get the appearance you want by considering the designs available.
As you think of the design of the unfinished kitchen cabinet to use, take your tastes and preferences into consideration. This will help you choose the designs that will complement your home décor and your personality. You can do this best by looking at images of unfinished cabinet designs from magazines before you make a final decision.
As you shop for the cabinets, look for the stores that offer good prices. The other factors to consider besides the price are durability, quality, and attractiveness. You should also consider whether you would get warranties after making a purchase.
When shopping for the cabinets, it will be better if you carry the sketches of what you would like with you. This will help you in explaining what you want to the sellers.
The other important thing is to assess how the unfinished cabinets will work in your kitchen. This includes thinking about how the doors will open so that the cabinets will not obstruct doorways and walkways. Make sure that the drawers of the cabinets will open smoothly by looking for drawer glides. Standard hardware usually permits a person to view only seventy-five percent of the contents in the drawers.
In case you shop for unfinished kitchen cabinets from online stores, make sure that you check the shipping costs and taxes to ensure that they will be cost effective.
These six ideas will help you choose the unfinished kitchen cabinet that will meet your tastes and be aesthetically appealing to your kitchen.