Tips on Getting Your Kitchen Fitted
by Guest Post on Aug 25, 2010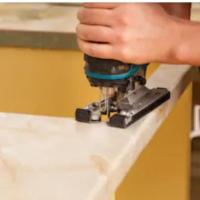 Most people don't realize the importance of setting up the kitchen appropriately while moving into a new home until they start using it on a daily basis. Therefore, a lot of people decide to refurbish the kitchen after a few years, by which time they have already listed what to do and what to avoid the second time. However, redoing the kitchen can be a costly affair. Hence, the chances of repeating such renovation more than twice or thrice in one's lifetime are slim.
Cost Consideration
If you are on a budget constraint, which is not hard to understand in this present situation of economic meltdown, don't worry about having to spend thousands of dollars on high-maintenance kitchen appliances. Go for simplicity and utility more than the look. Stick to lamination on your kitchen cabinets and counters with water-resistant and heatproof materials.
Space Utilization
This is the most serious consideration while fitting kitchen appliances. Not only should your kitchen be big enough to allow you to move about freely while cooking, but it should also accommodate basic appliances such as a refrigerator, microwave, and a sink
You must also have a good ventilation system to save your home from smoke and odor. This requires a vent fitting into your kitchen.
Try to leave the ground free of things. It is easier to move around this way. Cleaning also becomes easier if you don't have things piled up on the floor
Use the space on the wall as much as you can. Fit cabinets at a height to avoid direct exposure of it to heat and grime.
Style and Design
Many decisions regarding style and design are based on space considerations. The L-shaped kitchen appliance saves the maximum volume of space in your kitchen. The gutter kitchen, on the other hand, has the opposite effect on your kitchen. You can choose the U-shaped kitchen set as well. All your choices should depend on the availability of space in the kitchen.
Lighting
If there are a number of small lights spaced evenly in your kitchen, even if it holds many fittings and appliances, you will achieve an expansive look.
Are you looking to update your kitchen? White kitchen cabinets might be just what you need.