Benefits of Using a Convection Microwave
by Guest on Mar 29, 2011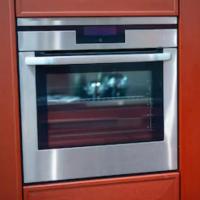 If you have been looking for the cooking quality associated with a conventional oven compacted into the easy size of a microwave oven, then you may want to learn about the benefits of the convection microwave. The convection microwave oven gives you the ease of cooking something such as a pizza in 2/3 the time of a conventional oven, yet still gives you the golden brown crispy crust you love. If you haven't heard about the benefits of using a convection microwave, you will be pleased with what this appliance has to offer.
Because they operate differently than the traditional microwave, the convection microwave allows users to do such things as toasting waffles and baking pizzas or cakes. Fans blow hot air into the microwave during the cooking cycle. The circulating air is called convection.
The convection microwave sends this hot air throughout the interior, allowing for an even distribution of the heat. One can even roast a chicken using a convection microwave, and have it browned to perfection. The traditional unit uses microwaves that heat the fats, sugar, and water in foods. This method works well if you only want to reheat food.
The convection microwave uses both the microwaves and the air circulation to give you the best of both worlds. Most convection microwave ovens have the option of turning off the convection function. However, by leaving that function operational, one can more evenly heat foods. If you have ever been frustrated because the food you heated up in your traditional microwave was still cold in the center, you would be happier with the results from a convection microwave. The even heat means that there are no cold spots. If you dislike the crispy edges you get when heating something with varying thicknesses, then you will also prefer the even heating of the convection microwave.
One of the benefits of using a convection microwave is the amount of energy you can save. It only uses about half the energy that a conventional oven uses. The difference is the convection process. Because the hot air is continually circulating, it gets closer to the food and cooks it faster. This results in shorter cooking times and lower temperatures necessary in the convection microwave, resulting in energy savings.
Saving energy can translate into saving money on your energy bills. It is possible to save enough money with time so that the convection microwave pays for itself. The convection microwave is considered a high-end appliance and has features that will make it more expensive than a traditional unit. Of course the additional features you select can also make a difference to the price of the convection microwave. As you look at the options available, you can make the decision not to purchase a model with more features than you will use. However, certain features may be just what you are looking for, so don't go without the ones you want on your convection microwave.