How to Make the Most out of a Small Kitchen
by Guest on May 20, 2011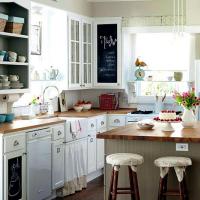 A kitchen isn't merely a place to whip up your meals; it's the centerpiece of your home. This is where family and friends gather, and where precious memories are created. By inviting someone into your kitchen, you are inviting them into the essence of your house. Unfortunately, with tough economic times, sacrifices must come, and often those sacrifices are born out into smaller living areas, including the kitchen.
No matter how small it is though, it is still important as the place everyone can go to unwind and forget the troubles of their day while bonding with their loved ones. However, as we are forced into smaller and smaller spaces, this becomes increasingly difficult. This is why it is so important to not only make the most out of these smaller spaces, but to keep that warm and inviting atmosphere alive.
Utilize the Space you Have
Unless you have a magic potion to turn a small space into a larger one, then it's time to realize that you will need to work with what you have. That isn't a reason to be discouraged though, as even the smallest kitchen has plenty of extra space that you just haven't found yet. All too often, smaller kitchens are neglected, and owners try to hide them from view.
Cabinets and cupboards are traditional in a kitchen, but if space is limited, then these are only going to make it appear smaller, and feel claustrophobic. A great space-saver for smaller kitchens is installing open shelves that run the length of the entire kitchen. The extra chore that comes along with that is keeping them neat and organized. A bit of a mess is easy to hide inside a cabinet, but you can't have that with open shelving.
Install Smaller Appliances
Appliances are the most important aspect of any kitchen. However, if you are strapped for space, they can be the biggest obstacle as well. Keeping counter tops clear of clutter can open the space up quite a bit. That doesn't mean you have to invent a microwave and toaster combination that comes out of the wall at the push of a button, but there are some tips you can use to deal with this.
The first is to keep some free cabinet space for appliances you are not currently using. To do this you can install a pot rack above the stove, rather than wasting cabinet space to store them.
Purchasing smaller appliances is a good idea as well, but be sure to purchase a well-known brand rather than the cheapest. There are really inexpensive mini-versions of appliances on the market, but sometimes you really do get what you pay for.
Lastly, consider a deeper sink. A sink that is deeper rather than longer or wider takes up much less room and is ideal for pots and pans.
Don't Forget the Ceiling
More often than not, owners trying to expand or beautify a small kitchen are concentrating on their countertops. I'm not saying a countertop should be ignored, but to create an illusion of having more space you have to look up. Vertical is your friend, and that space should be completely used up, and the ceiling should be painted a nice bright white to draw people's attention.
Cleanliness
With less space, keeping your kitchen space clean is even more important if you want it to become the meeting place of your home. This includes keeping countertops free of clutter, the sink free of dishes, and the floor swept and mopped.  
The most important appliance of all when it comes to creating an inviting atmosphere in a small kitchen is the range hood. A properly installed range hood not only adds aesthetic beauty to a smaller kitchen space, but it keeps your family and guests from having to deal with foul odors and a greasy film on everything they touch.