Advanced Cooktops
by Guest on Mar 29, 2011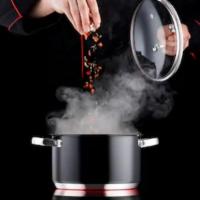 There are many different cooktops styles and functions. Cooktops have come a long way in the past few years and they are now more environmentally safe and use less energy. Kitchen technology has blossomed and opened up many options for consumers.

Some people dislike gas cooktops because they think they are harder to clean. Now they have burners that are removable and dishwasher safe. Even though it is dishwasher safe, the cooktops are still made of very high-quality materials and can come in a variety of colors. Gas cooktops have also been upgraded to have more controlled heating, the cooktops can now go up to 18,000 BTU (British thermal units) and have an option that makes sure the flame is always lit. The cooktops now come with ergonomic controls making it easier to control heat and multitask. This could very easily make the new gas cooktops more popular.

Electric cooktops have become more high-tech as well. The cooktops' designs have become sleeker and have more options. They now come with exhaust systems called downdrafts, which help clear the air above the cooktops and suck it down a vent below and out the back of the cooktops. They have become more energy efficient by making the cooktops shut off and cool down faster.

Induction cooktops have advanced the most. These cooktops can now sense the size of the pan above it and adjust the element accordingly. Induction cooktops can now also get to the desired exact temperature faster and keep at a steady temperature for long periods. These cooktops now offer sleeker control panels, with slide controls that disappear into the counter surface, making the cooktops completely blend in with the rest of the kitchen. Other new induction cooktops have a boil sensor that prevents pots from boiling over. These cooktops have better safety features as they turn off every burner unless there is a pan on top of it. Some cooktops have individual burner timers that beep when they're done, and the cooktops have childproof locks on them.

Cooktops are always being improved and new things are being tried out. There are now some concept cooktops in the works right now that mix electric and gas burners. These cooktops have one or two electric burners and the rest are gas. This mixes things up and gives cooks so many options. The cooktops have electronic controls, even for the gas burners, and are very user-friendly and easy to clean. In the future, people won't have to choose if they like gas cooktops, induction cooktops, or electric as they'll be able to have all their favorite cooktops in one place.

Cooktops are an essential appliance for every home, but it is hard to stay on top of this ever changing technology. There are many cooktops for people to choose from, and everyone can appreciate the ease of use and convenience of these new cooktops. Although many average cooks may not need all of the cooktops' new features, any budget can find cooktops that work for their needs.